A community unto itself, Haymount offers charm and variety to visitors and residents alike. Unlike many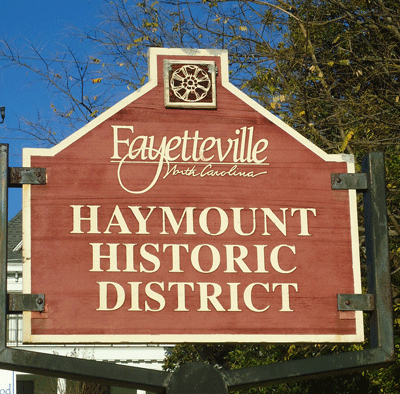 big-box stores and services, there is a story behind the establishments here — a history behind the buildings and organizations and a friendly smile and warm welcome from behind the counter, desk or pew. Those who live and work in Haymount will tell you it is a special place with a small town feel, it feels like, well, it feels like home.
So much so that professionals looking to build relationships with their clients chose Haymount specifically because of the closeness of the community.
In 1996 Dr. Robert Twaddell purchased Downing Chiropractic and Chiropractic Advantage. The practice was established in 1928 and was one of the first chiropractic offices in the state. Twaddell sought out the Haymount district because of its reputation as a nice community and its close proximity to his house of worship, Highland Presbyterian Church. The practice offers unique approaches to manage back pain including acupuncture and laser. Find out more about this practice at www.ahealthyback.com.
Established in 1953, Fayetteville Children's Clinic is the oldest pediatric clinic in town. Generations of local children prospered under the care of the late Drs. Kelly, Shaw, Powell and Breeden. Now it is Dr. William H. Kelly, Dr. Niveen Y. Iskander and Dr. Horace R. Long who are serious about providing top-notch care to their patients. Being in a small neighborhood close to the old Highsmith Rainey Hospital was appealing when the practice located there almost 60 years ago and still is to this day. Visit www.faychildrensclinic.com to learn more about this practice.
In an emergency it is good to know that there is a place to go with your best interests at heart. Haymount Urgent Care was established in 2008. The proprietors chose Haymount because they wanted to provide comprehensive services that support a healthy community in the Haymount area. Haymount Urgent Care provides immediate unscheduled and after-hours medical care and urgent care services. They also provide affordable care and discount programs for those without health insurance. Find out more about Haymount Urgent Care at www.haymounturgetncare.com.
At the top of the hill, Stewart Compounding Pharmacy stands ready to fill and compound all kinds of prescriptions. Complete with a clean room for making sterile products in varying dosage levels, Stewart Compounding Pharmacy is the only place in town, not just Haymount, to provide these services. This establishment has its origin in the MacKethan's Family Pharmacy, which was established in 1908. The Stewart family purchased MacKethan's Family Pharmacy in 1991 and are proud to continue the tradition of providing a full-service family pharmacy concentrating on the art of customized medication. Learn more about them at stewartcompounding.com.
Physical health is just one component in a well-rounded life. There are several churches in Haymount that serve the many families in the area.
Sts. Constantine and Helen Greek Orthodox Church, also known as the Hellenic Center, was built in 1955. The only Greek Orthodox Church in Fayetteville, and home to a lively and generous congregation, Sts. Constantine and Helen Greek Orthodox Church provides more than a place to worship to the community. Each year the congregation hosts a Spaghetti dinner and a Greek Festival as part of its outreach to the people of Fayetteville.
Snyder Memorial Baptist Church also has its thumb on the pulse of the community. Worship services and Sunday school classes are full on any given Sunday, but perhaps just as important, outreach efforts are well received, too. Snyder Memorial Baptist Church has a strong music program and offers classes in various instruments and voice. The church also has a childcare center and several ministry programs geared towards meeting the needs of the community. Learn more about Snyder Memorial Baptist Church at www.snydermbc.com.
New to Haymount, but not to Fayetteville, European Gifts & Collectibles opened at 1228 Fort Bragg Rd., in October of 2011. The business moved from the Westwood shopping center after 32 years. The history and unique boutique atmosphere make Haymount a perfect fit for this shop. When Sonja Axler came to Fayetteville from Germany, she started this business to bring a taste of Europe to her new home. Although Axler passed away in 2010, her dream lives on and shoppers need to look no further than European Gifts & Collectibles for crystal and one-of-a-kind items.
For one-of-a-kind clothes, shoes and accessories, check out Fabulous Finds at 1212 Fort Bragg Rd. Owner Samantha Thompson is known for bringing high fashion to Fayetteville. She routinely travels to New York City and Atlanta to make the latest trends available locally. There is no need to leave town to find stylish attire. When Thompson opened her shop in 2006, she knew that Haymount was the place to be. Her clientele live nearby and the ambience and history of the area make it feel like home. Find out more about Fabulous Finds Boutique and the great selection and service provided there at www.fabfindboutique.com.
Jennifer R. Cooney, attorney at law, loves the charm of the area as well and opened her law firm there. A Fayetteville native and resident of Haymount from an early age, she knows how to serve the community of her childhood. Specializing in real-estate transactions, guardianship proceedings and estate planning and administration, Cooney is a local resource for helping residents with life's details. Find out more at www.thecooneylawfirm.com.
Haymount BP stands at 100 Broadfoot Ave. and has been serving the area since the 1940s when it was known as Haymount Gulf. Owner Bobby Wiggs, Jr., grew up working at the station. In an age of instant gratification and self-serve establishments, Haymount BP offers both full service and self-serve gas as well as auto repair services, state inspections, oil changes and tune ups and more. Stop by or give them a call at 910.484.62451.
Whether Haymount is new to you or as familiar as grandma's homemade cookies, it is worth the trip to stop by and pay a visit.
Photo: Haymount is a favorite destination for many in Fayetteville, and for good reason.