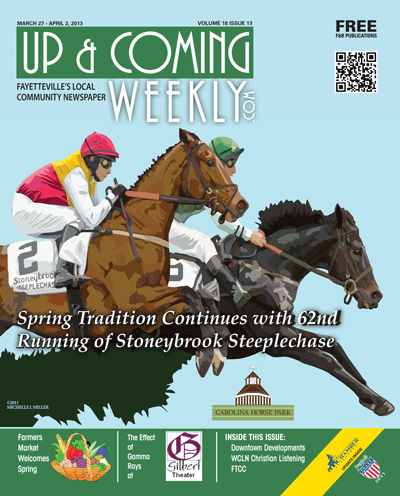 New York has its Easter Parade and Lexington, Ken., has its derby, but the biggest spectacle of spring in North Carolina is right in our backyard with the 62nd running of the Stoneybrook Steeplechase on Saturday, April 6 at the Carolina Horse Park.
The race, which features everything from a 5K run to tailgating to a hat contest to the actual race has been a tradition in the area since its inception in the 1940s. The race itself was the realization of a dream by Michael "Mickey" G. Walsh. Walsh, an Irish immigrant came to Southern Pines in 1939, where he used his passion and skill with horses to become one of the preeminent trainers of steeplechase and timber horses. At this point, you might be asking yourself what excactly a steeplechase is. Steeplechase is a form of horse racing, which derives its name from early races in which orientation of the course was by reference to a church steeple, jumping fences and ditches and generally traversing the many intervening obstacles in the countryside. Today, a steeplechase is a distance horse race with diverse fence and ditch obstacles.
In 1940, Walsh brought his love of horses to and the race to Southern Pines, when he purchase his own riding and training stable which was home to the first Stoneybrook Steeplechase. The race continued until 1993 when the farm was sold following Walsh's death.
Local horse enthusiasts, who shared his passion for the not only the race, but the social event it had become, formed a nonprofi t charitable foundation, now known as the Carolina Horse Park. Following an eight year lapse, the Stoneybrook Steeplechase was restarted in 2001 in celebration of its 50th anniversary. Since that time, those who grew up with the Steeplechase as the marker of spring have gathered to celebrate not only the beauty of the race, but also the tradition. The race has grown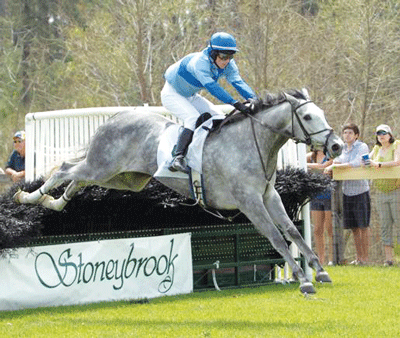 exponentially each year, with attendance reaching more than 10,000 in recent years. Don't let the numbers put you off. There is ample space and more than enough to do on race day, and, the event itself invites you to meet new people and make new friends during the day-long tailgating event.
Race day offers more than just the races. Each year, the event has grown and organizers have added more entertainment. The 2013 running
features activities for both children and adults. From the 5K/1K Run for the Ribbons to the traditional tailgate and hat contests to stick horse races, expansive Kid Zone, vendor area, pub tent, beer tent and opening ceremonies, there is something for everyone. While the tailgating area opens at 9:30 a.m., the fi rst horse race doesn't start until 1:30 p.m.
General Admission tickets and parking passes are available for $25 in advance and $30 on race day. Children under the age of 12 are admitted free with a ticket-holding adult. advance sale / $30 on race day; kids 12 & under free with ticket holding adult. Tailgating spaces are available all the way up to race day and range in price from $150 to $450, which includes a limited number of tickets. Tailgate spaces are designed for parties of 12 or less. This year, you can forget about cooking and enjoy the day in the Pub Tent located in the infi eld, which is sponsored by Huske Hardware. Admission to the tent is $50 and includes a Southern Style BBQ with beverage. Discounted tickets may be purchased at Harris Teeter Grocery Stores in Whispering Pines, Aberdeen, Fayetteville and Laurinburg. Military members may also receive a 20 percent discount. For more information, visit www.carolinahorsepark.com/stoneybrook.
Photo: Stoneybrook Steeplechase offers more than exciting horse races.