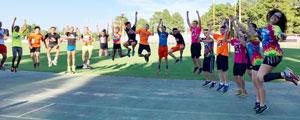 South View's annual Jungle Run night cross country meet is scheduled for Saturday, Sept. 2 on the school campus. The traditional course winds through the Tiger baseball, softball and football fields and ranges all the way over to the neighboring campus at Baldwin Elementary School.
"We'll have to bring in the light towers, but for the most part, the course is the same,'' said veteran South View cross country coach Jesse Autry, who is in his 21st year.
Autry said the Jungle Run presents two major tests for his teams. "It's an early season test of where we are,'' he said. "You also want to defend the home ground.''
But Autry said he doesn't stress winning the meet to his runners. "We talk about being the best we can be,'' he said. "We really want to win at the end of the year.''
One of the biggest changes this year is that traditional meet power, Pinecrest, won't be running because one of its coaches has a family commitment this weekend.
But there will be some familiar names, like Raleigh Broughton, the defending 4-A boys' champion and a highly-ranked team this year. It will also be a homecoming for Fish Solomon, who was a member of Autry's 2003 state championship team at South View and is now an assistant coach with Broughton.
Another strong contender will be the boys and girls from Chapel Hill, who Autry said have consistently dominated the Jungle Run. "Even though they are 3-A, they are one of the best teams,'' Autry said.
Another successful program entered are the boys and girls from Wilmington Hoggard.
A number of familiar programs from Cumberland County will take part, including Pine Forest, Jack Britt, E.E. Smith and Terry Sanford. Westover has not officially signed up as of the week prior to the race, but Autry said the Wolverines indicated they plan to participate.
Also taking part will be private schools Fayetteville Academy and Fayetteville Christian.
As of this writing, Autry said 50 teams have signed up with a maximum of 60 expected. He's ordered 2,000 bibs for the runners. "That's pretty much our limit,'' he said.
Developmental races for junior varsity boys and girls begin at 6:15 p.m., followed at 7:40 p.m. by the invitational races for boys and girls.
The championship races for boys and girls begin at 9 p.m., and awards will be presented in the South View football stadium, Randy Ledford Field, at 10:15 p.m.
For further information, go to ncrunners.com and search for 2017 Jungle Run.