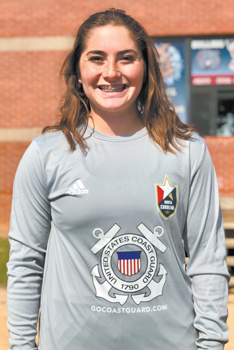 Terry Sanford's girls soccer team is having the same kind of season so far that it's enjoyed the last two years under head coach Karl Molnar.
That means two things for the Bulldogs: more wins and more pressure.
In the past two years, the Bulldogs topped the 20-win mark both times, while suffering only one defeat, that coming both times in the North Carolina High School Athletic Association state playoffs. Two years ago, they got all the way to the 3-A Eastern finals. Last year they lost in the third round.
Through March 20, this year's team is 5-0.
"Obviously, the pressure just builds,'' Molnar said. "The target seems to get bigger. Other teams continue to grow their programs, and other teams are shooting for you.''
But while the pressure is real, Molnar said it's also a positive. "We often talk about (how) pressure is a privilege,'' he said. "You're doing things right (if ) the games matter that much.''
Terry Sanford's quick start this year is an impressive accomplishment considering the graduation losses the Bulldogs suffered.
"We lost some very talented young ladies last year,'' Molnar said. He mentioned standouts like Talia Parrous, Christina Rice and Ally Gustafson.
"Those were some big shoes to fill, but we've had some people step up,'' he said.
One of the biggest has been junior forward and midfielder Corrine Shovlain, who leads the team in goals through March 20 with 14.
Kate Perko came to the Bulldog program from nearby Fayetteville Academy and has provided tough play in the middle of the field. Maiya Parrous, recently recovered from illness, is also beginning to shine.
Goalkeeper play is solid for Terry Sanford with senior Lindsay Bell in the net. Through March 20, Bell has only allowed one goal in 14 shots on goal.
But as well as the Bulldogs are playing, Molnar said they're not in state playoff form yet.
"It's still early in the season,'' he said.
Also, some games Molnar was banking on to help the Bulldogs hone their performance to a finer edge won't be played.
The Patriot Athletic Conference that Terry Sanford plays in has some traditionally weak programs that don't provide Terry Sanford the strongest possible test.
Molnar hoped to bolster the Bulldog schedule with nonconference games against good teams from Jack Britt and Union Pines.
But the rash of bad weather has forced multiple rescheduled games for the Bulldogs. Since conference games are a priority, Molnar had to wipe the contests with Jack Britt and Union Pines from the slate, and now it's unlikely those games will be played this season.
"We develop and push and try to get them on the same sheet of music as much as you can during the season, so you are peaking at the end of the season,'' Molnar said.
That's not easy when the teams you face in the state playoffs are seasoned, with numerous players who take part in club soccer programs year-round.
"Those teams that beat us in the state tournament are solid at every position,'' Molnar said. "There's not a weak spot on the field, and they've got two or three girls rotating in that aren't weak spots.''
But that is no deterrent to the confidence of Terry Sanford players like Shovlain, who said the Bulldogs have high expectations again this season and are trying to get stronger every game, regardless of the level of competition.
"What we do is take every practice seriously,'' she said. "We have to push ourselves to our best abilities. Even though we play weaker teams, we all try to push each other during those games. We all communicate and pass. We work on different plays that will help us in the playoffs.''
Shovlain feels the Bulldogs have a strong offensive attack and that the defense led by Maiya Parrous and Kara Walker is getting stronger.
"Working as a team is a big thing,'' Shovlain said. "At the end of the day, if we all try our best, I think we'll come out with a W.''
Photo: Corrine Shovlain