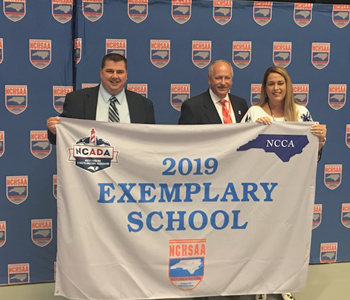 Cumberland County Schools made history at last week's North Carolina High School Athletic Association annual meeting in Chapel Hill at the Dean E. Smith Center. For the first time, the same school system captured the NCHSAA's coveted Exemplary School Award in consecutive years. Cape Fear won the honor in 2019, and Terry Sanford made it two straight by winning this year's award.
They are the second and third county schools to take the honor. Jack Britt won it in the 2009-10 school year.
Vernon Aldridge, student activities director for Cumberland County Schools, said the award means much more than athletic success. He said the award also recognizes the number of nationally certified coaches a school has on its staff.
"On the academic side, they look at testing scores and the number of students taking advanced placement honors classes, as well as how students do on advanced placement exams,'' he said.
"It's an all-around award, truly recognizing a school that has embraced the idea of the student athlete.''
Terry Sanford athletic director Liz McGowan said it's great for the school to be recognized by both its peers and a statewide organization like the NCHSAA. "It's not just coming to school and doing a good job,'' she said. "It's my coaches taking extra classes, my kids going to leadership conferences they are invited to. My kids' grade point averages are awesome, working hard inside the classroom as well as on the field.''
Terry Sanford principal Tom Hatch said the award validates what the school's coaches do every day, as well as the work they do beyond the athletic field.
Retired Cumberland County student activities director Bill Carver often referred to high school athletics as the front porch of the school. Hatch said he agrees with that philosophy.
"Athletics allows people who graduated from a school or live in that community to come around and watch a lacrosse match or a wrestling match, football or basketball, talk about what's happening with their child,'' he said.
''Athletics is the front porch of the school, and our front porch looks pretty good right now.''
Photo: Left to right: Vernon Aldridge, Cumberland County Schools student activities director; Joe Franks, NCHSAA Board of Directors member; and Liz McGowan, Terry Sanford athletic director