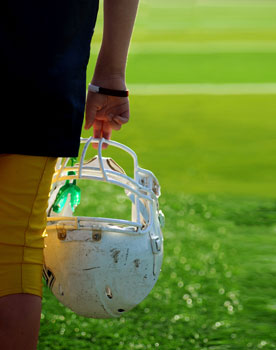 As we head into the final weeks of the high school football season it's a good time to remember the rules regarding fighting and ejections in the North Carolina High School Athletic Association.
There's never a good time to lose your temper on the field and get into an altercation with an opposing player, but the stretch drive is the worst time, especially for teams with playoff aspirations.


The following violations get you kicked out of a game immediately: fighting, biting, taunting, baiting or spitting toward an opponent, obscene gestures or disrespectfully addressing an official.


Everything on that list carries an additional penalty of one game missed, with the exception of fighting.


If you are guilty of fighting, that means you are gone for the next two contests.


Worse, if three players or coaches are ejected during a game, or six for a full season, that team loses its state playoff privileges for that year.


It has happened before to teams from this area.


Please make sure your team isn't one of them this year. Keep calm and play by the rules.
The record: 47-14
I was almost perfect for two straight weeks but dropped one game to finish 7-1. The count for the year is 47-14, 78.3 percent.
South View at Cape Fear - This is a huge Patriot Athletic Conference game for two of the league's hottest teams.
Both are peaking at the right time of the season. Home field definitely helps Cape Fear, but that still might not be enough for the Colts.
I expect this to be a close one that a big play or key turnover could decide.
South View 21, Cape Fear 20.
Douglas Byrd at Overhills - I think Overhills has too much offense for the Eagles to get a win in this one.
Overhills 28, Douglas Byrd 14.
Pine Forest at E.E. Smith - This is a tough call because both teams have been inconsistent. I'm giving Smith the edge playing at home.
E.E. Smith 22, Pine Forest 18.
Hoke County at Jack Britt - Hoke has clearly been the surprise team of the season in the Sandhills Athletic Conference with its return to success. This is a big game for both teams trying to improve their state playoff chances.
I think Britt will figure a way to win this one.
Jack Britt 24, Hoke County 18.
Purnell at Seventy-First - The Falcons get a much-needed win against a Swett team having a difficult season.
Seventy-First 30, Purnell Swett 12.
Westover at Terry Sanford - The Bulldogs celebrate homecoming with another victory as they brace for bigger foes down the road.
Terry Sanford 31, Westover 8.
Open date: Gray's Creek.
Other games: Word of God forfeited to Trinity Christian earlier this week; Faith Christian 30, Fayetteville Christian 14.