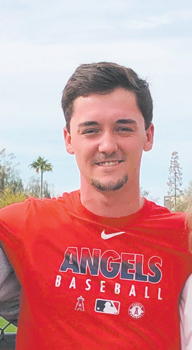 Austin Warren arrived in Tempe, Arizona, at the Los Angeles Angels minor league baseball spring training camp in February anxious to continue working on his dream of making it to the major leagues.

But after a few weeks working out with the other early arrivals, and almost the same time as his mother Alana Hix and other relatives arrived to watch him play spring training games, minor league baseball joined the rest of the sports world in shutting down because of the COVID-19 pandemic.

Now back in Fayetteville, the Terry Sanford High School and UNC-Wilmington product is working out three days a week and waiting like everyone else in minor league baseball to find out what the future holds, both for the sport in general and his career.

Warren started 2019 with the Inland Empire advanced Class A team in San Bernardino, California, then he was briefly assigned to the Mobile Bay Class AA team in Alabama. He was in Mobile long enough to compile a 1-2 record with a 2.57 earned run average, walking nine batters and striking out 14.

Team assignments for the aborted 2020 minor league season weren't to be made until near the end of spring training, but Warren said he expected he would have been sent to Los Angeles' new Class AA near Huntsville, Alabama, the Rocket City Trash Pandas.

Even after the season was canceled, Warren hoped to stay in Tempe and get in some more workouts, but while hiking there with family a couple of days after the season was halted, Warren got the word from team officials that nobody could stay behind and everyone had to return to their homes.

Since coming back to Fayetteville, Warren has divided his time between here and his old college haunts in Wilmington, while working out locally to stay in shape and keep his pitching as honed as much as possible.

During his brief time in Arizona this year, he did get to do some bullpen work as well as throw live batting practice against some of the Angels' major league players.

He said coaches from the Angels have been in regular contact with him since he came home, checking on his health and conditioning.

As for what will happen next with minor league baseball, Warren said he's just as much in the dark as everyone else.

"I'm hoping they will start some kind of fall league like I was in last year,'' Warren said. "I'm sure winter ball teams will reach out to people. You never know what's going on with this virus. You've got to play it by ear.''

Warren said the formula for advancing further in the sport is simple. "You've got to throw strikes, pound the zone and like everyone says trust your defense,'' he said. Warren feels he's improved all of his pitches and has the confidence to throw any pitch in any situation.

"I just can't wait to get back with the guys and get things rolling again,'' he said.
Pictured: Austin Warren