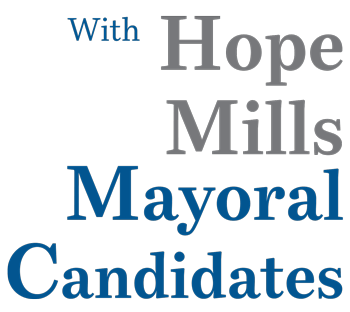 All answers in this forum have been printed as submitted by the Hope Mills mayoral candidates. The only edits have been for style and punctuation where needed. Each candidate was given the same questions and the same requested word count for their responses.
Jessie Bellflowers currently serves as the department chair at Fayetteville Technical Community College and is retired from the United States Army. Bellflowers was born August 22, 1956. His Family members include his wife, Bambi, daughter, Jessica and he has three granddaughters. Bellflowers has served as commissioner for the Town of Hope Mills since 2017.
Jacquelyn Warner is a small business owner at Carleen's Baby Boutique and a retired principal and teacher. Warner was born June 24, 1950. She is married to, Alex, and has two children a son, Teddy, daughter, Molly and has five grandchildren. Warner has served as mayor of the town of Hope Mills since 2011 and previously served as a town commissioner from 2007 to 2009.
As Mayor of one of Cumberland County's fastest-growing communities, describe what a typical routine work week would look like.
BELLFLOWERS: According to the U.S. Census, Hope Mills has grown 17.3% in the last 10 years. More and more people and businesses are choosing our community mainly because of schools and recreational opportunities. But, despite this growth, the town hasn't been able to keep up [with] infrastructure and traffic congestion.
Since I was first elected four years ago, folks ask me what a typical week looks like. I always respond with every week is different — there is no typical weekly routine. Serving as an elected official, regardless of position, is a full-time 24-hour, 7-days a week where you must be available to community citizens — returning phone calls, answering emails and text messages, checking the town website, meeting with citizens and business owners, attending town sponsored business functions and serving on various committees, for example the Gateway Study Committee, Heroes Homecoming IX, etc. Over the past four years, I have attended every town board meeting with 100% attendance, something unheard [of] these days in politics.
The role of mayor is one who conducts the meetings, signs legal documents and acts as ambassador for the town.
Each week, I review the upcoming town board meeting agenda, for example, I spend hours researching every agenda item before board meetings. This action includes driving to each zoning and annexation property location to learn if the request fits the integrity of the surrounding neighborhoods.
As mayor, our sense of inclusiveness and identity as a community will always be a priority for me. Remember, elected officials are public servants.
We should always support community engagement that builds deeper, stronger and more trusting relationships between our town board and citizens. Servant leaders are also ethical leaders with no hidden agendas.
WARNER: A mayor's primary role is leadership in the best interest of the municipality. The mayor represents its township in ceremonial events and, when necessary, states of emergency, e.g, hazardous weather conditions, accidents, etc. that disrupt normal town functions. The mayor presides over board meetings and other committee meetings. The mayor also promotes partnerships with other stakeholders for the benefit and future planning for the community at large.
As mayor, my typical work week is busy rotating around attending meetings, virtual workshops and answering emails or phone calls. I prioritize work based on how urgent and important the different activities are. I address the issues or concerns in the order of priority. But, being mayor is not limited to our home government. The role must be integrated with surrounding mayorships (Mayors Coalition), participation with local and state programs such as FAMPO, Senior Tarheel Legislature, Mid-Carolina Council for Aging, FCEDC and interacted with cooperative participation with state and national issues as well. Being part of a larger government makes our local board even stronger.
Even though being mayor is highly rewarding in seeing progress for Hope Mills, the extra hours required, especially overseeing such a busy town, makes it challenging. I work overtime to be constantly available for town concerns as the spokesperson for our citizens. Building partnerships to bring more resources to our town is a priority, therefore my involvement with the Mayor's Youth Council, Tier I Committee, Heroes Homecoming Committee are examples of how my time is spent to get input from our youth, seniors and our veterans to identify what is needed to improve our quality of life through partnerships. Being retired from my chosen field of employment, I have the time to be available. I know that I possess what is required and will deliver to the best of my resources. I love serving people and believe the happiness of Hope Mills residents provides the motivation for our board to work harder and smarter. Being mayor is an honor for me, personally, to work for the citizens in one of the finest small towns in our great state.
As Mayor, what will be your top three (measurable) priorities for improving the livability in the town of Hope Mills? Which one will present the biggest challenge.
WARNER: The priorities that are listed below are my personal opinions only since the mayor has no vote in our actual prioritization of future town projects and appropriations for such. That responsibility is left to our elected town commissioners. Personally, I feel three projects of concern and need are as follows:
1. The completion of capital projects, namely, our Public Safety Building, grant-funded improvements for Main Street items (cross walks, bike path), municipal park improvements adding splash pad and all-inclusive playground is a family priority, a restoration of the location of our first and largest mill factory area known as Heritage Park is a historical priority. These projects will provide recreational opportunities for our citizens along with improvements for public safety.
2. Transportation for our citizens to provide bus routes around Hope Mills and to surrounding points of interest or need. This can be accomplished by working with community partners to maximize our funding sources to include grants available for seniors, youth and the disabled mobility.
3. Preparation for present and additional traffic concerns related to the impact of the fast approaching I-295. This priority is the most challenging as we continue working with Fayetteville Area Metropolitan Planning Organization and Department of Transportation for completion and opening of I-295 along with the widening of Rockfish, Golfview Roads and Main Street to improve traffic patterns. This priority will present the biggest challenge because of the inconvenience of the construction work to include road closures, paving and detours.
Also the time it will take to complete projects will be frustrating—our community will benefit in the end with sidewalks, pedestrians crosswalks to improve safer walk-ability along with safer movement of vehicular traffic.
BELLFLOWERS: Without question, our community is at a crossroads regarding residential and economic development growth. With growth, comes traffic congestion. One of the enormous challenges will be to address our town's aging infrastructure where public safety and limited community parks and recreational opportunities are high priorities.
These challenges may be separate, but I consider them linked to our community's sustainable quality of life, commercial/residential growth challenges and economic development opportunities.
We must have the courage to be smart about planning our future and managing growth with a sustainable, visionary long-term strategic economic development plan. For example, future residential and economic development growth regarding I-95, Exit 41 and Future I-295 bypass gateway areas.
Public safety has always been my number one priority. Currently, the new police and fire department complex, named the John W. Hodges Public Safety Center is being built and [will be] completed in 2022. Even with completion of this project, we must still find a workable, affordable solution to build at least one or two new satellite facilities over the next five years.
Another top priority is community recreational programs whereas the town must invest in improvements to existing facilities, programs and the development of new recreational opportunities in order to maintain and enhance community quality of life. Hope Mills Lake Park is the centerpiece of our downtown and another testament to the power of vision, planning and results-driven leadership that will be required to address future residential and economic development growth in our community, for example, the Heritage Park and Golfview Greenway projects.The biggest challenge with managing these priorities going forward will be to locate sustainable funding resources without raising property taxes.
The U.S. Congress is currently debating infrastructure legislation. What infrastructure project(s) in Hope Mills should have the highest priority? What ways would you maximize funding resources for Hope Mills?
BELLFLOWERS: The American Rescue Plan (ARP) is a defining moment with a unique opportunity to invest in our town's long-term future. But, I would like to emphasize the importance of municipalities-county collaboration. For example, elected officials should think as one Cumberland County regarding the strategizing of priorities for spending this one-time funding throughout our county.
In July 2021, the town received $2,525.517.90 in ARP funding. The town will receive the second half of the funding in July 2022. The town has until 2024 to obligate the funds, and 2026 to use them.
This is not the time to make quick, unresearched decisions to spend this money on immediate needs that may not be eligible for these funds. Eligible uses for ARP include: supporting public health expenditures; addressing the negative economic impacts of the pandemic; providing premium pay for essential workers and investing in water, sewer and broadband infrastructure. Remember, this is a once-in-a-generation opportunity not only for Hope Mills, but all the municipalities in Cumberland County. Collectively, it may not be the best practice to duplicate spending efforts.
If elected mayor, my sound recommendation to maximize funding for Hope Mills: Identifying eligible ARP funding priorities should start with reviewing the town's current Capital Improvement Plan and the Stormwater Strategic Master Plan. During the Spring 2022 Budget Retreat, departments should make priority recommendations during the budget process to begin the process of researching the priorities that may qualify for matching grants, therefore, adding additional funding to the ARP funds. We have one time to get this right regarding appropriate uses of the funds and the audits required.
WARNER: In my opinion, the maintenance and paving of our town streets should be ranked near the top.
We have had a study completed with a plan for maintenance and paving for all town streets with the price tag that we simply can not afford.
Even budgeting on a yearly basis, it would be difficult to stay on target with inflation issues, normal road deterioration, etc.
Also needed is the ever-present, growing funding for stormwater preparations. Thankfully, included within the state budget expenditures for 2021 is $350,000 for our town's study for future requirements for storm water funding.When this study is completed we can use it for leveraging our infrastructure funding. Our town's strategic plan can be used for evidence in both instances (street maintenance and stormwater) to assure ways of acquiring and maximizing funding.
Working collectively with the other Hope Mills Commissioners over the current term, what three achievements are you most proud of?
WARNER: One of the achievements that our board can be proud of is the successful adoption of another balanced budget with no property tax increases for our citizens.
Our budgets have provided cost of living increases for our staff and met the needs of our community with a focus on public safety. Another achievement would be successful planning, financing and ground breaking of our new public safety building. This construction is on schedule and our board receives timely reports on expenditures and progress.
Third, results from a first ever round-table discussion with area legislators of town needs that have been granted within the state budget of 2021. Our Capital Improvement Plan allowed quick access to projects with estimates of cost to give necessary information to our legislators. Our request for $350,000 for stormwater projects was put in the budget first and thanks to our delegation more projects were requested for possible funding.
We should receive with approval of the state budget the following funding: at Municipal Park -$340,000 for splash pad, $340,000 for all-inclusive playground, at dam area-$500,000 for Rockfish Creek Bed clearing, $2,500,000 for repair of sides of creek bed on East Patterson Street (due to flooding damage from hurricanes) and $650,000 for pavement and repairs of streets in Woodland Hills. Our board can now re-prioritize the remaining Capital Improvements and plan for additional community needs. This mayor is thankful for Senators deViere, Clark, Representatives John Szoka, Billy Richardson, Marvin Lucas and Diane Wheatley for making this happen for Hope Mills.
BELLFLOWERS: Town operating budget. The town board approved its budget for the 2021-2022 fiscal year that does not include an increase in the tax rate. The approved budget is the largest town operating budget in the history of Hope Mills that meets the needs of the town while living within its means without raising property taxes!
John W. Hodges Public Safety Center, the town board unanimously approved a new police and fire department complex at the site of the old headquarters next to Town Hall.
The new safety facility is being built and completed in 2022. The town budgeted $17 million for the project which is funded by a U.S. Department of Agriculture loan. Even with completion of this project, we must still find a workable, affordable solution to build at least one or two new satellite facilities over the next five years.
Closing Crampton Road stub. As our community continues to grow, neighborhoods must be protected from the dangers of too much traffic. For example, recently the citizens of two established neighborhoods (Golfview and Brightmoor) voiced their concerns about a potential traffic problem that would have evolved with an apartment complex that wanted to use their neighborhoods as a possible ingress and egress for apartment traffic. I agreed with their safety concerns.
This issue dragged on for eight months while Mayor Warner formed a committee to study it. The committee only met one time without resolution. Finally, after frustrating delays by Commissioners Marley and Edwards, Mayor Pro-tem McCray and Mayor Warner, the town board made the decision to close the road stub. It was the right thing to do to protect and maintain the safety for these neighborhoods.
Hope Mills has a very diverse and growing population including young families, millennials , military, seniors and plenty of retirees and disabled veterans. Collectively, what programs and policies would you recommend and implement to enhance everyone's quality of life?
WARNER: As mayor, to identify quality of life programs, I have aligned with our youth through a Mayor's Youth Leadership Council — representative of our three high schools-Southview, Grays Creek and Jack Britt — our veterans and military by being involved with Heroes Homecoming, attending and participating with our military at Fort Bragg events, our seniors by representing our community on the Senior Tarheel Legislature and the Mid-Carolina Council of Aging, the Pastors' Coalition, using these avenues to identify the needs and concerns for a better Hope Mills.
Partnerships are important as we address the needs of these populations to include available funding that can be acquired by working together with others in our county. Currently, our Tier 1 Committee with board approval is in the process of researching how a facility could provide services for our seniors and veterans to include rehabilitation and prepared meals free of charge, a pool for high school competitive team practice, swimming lessons for our youth, a family friendly facility with childcare while other members are involved in certain activities and more gym space for our recreational needs — funding partnerships so our citizens receive the benefits without tax increases. Our committee's findings to include estimated costs and details will be presented to the town board for their input and approval. We need to encourage recruitment and retention of our police department personnel to include more funding for a drug task force. Our new Public Safety Building should help in recruitment. Public safety is necessary for quality of life—as our population increases our policies and programs must develop around a safe and secure town.
Finally, bringing programs to Hope Mills such as classes provided by FTCC, FSU or Methodist University, Art Council exhibits and cultural arts programs to enhance our community such as we have started with our partnership with UNC Pembroke.
BELLFLOWERS: Research has shown that recreation is an important factor in quality of life for everyone, for example, a very diverse and growing population in Hope Mills. One of Hope Mills most valuable resources is its network of parks and the main recreational facility.
For example, Hope Mills Recreation Center is a recreational facility primarily used for Parks & Recreation programs. With just over 28 acres, Hope Mills Municipal Park is one of the community's most treasured resources along with Ed Herring and Bonayre Gardens neighborhood parks.
And, Hope Mills Lake Park is the centerpiece of our downtown where people from all over our community gather to enjoy recreational opportunities and the natural beauty of the lake. Another example is the Golfview Greenway Park where open green space is a premium in any community as a quality-of-life amenity.
Parks are places to meet and celebrate with family and friends. They are inclusive, accessible and venues for community events and sports activities. On any given week day and especially on weekends, you will find plenty of young families, millennials, senior citizens, military families and disabled veterans with service dogs all enjoying the park.
And, on the horizon is the Heritage Park project which has been funded for Phase I completion. Going forward, we need a senior citizen center and a town museum. Our community parks and recreational facilities can be just as important as fire and police services to the quality of life in our community.
We must guard these valuable community assets that has served generations past and those generations to come. This is called vision and if elected as mayor, I pledge to protect our limited recreational space and the historical culture of our town.
Finally, each candidate was asked to include a question of their own. One they felt should have been asked.
BELLFLOWERS: Why would Hope Mills citizens vote for you as Mayor?
I am totally committed to improving quality of life, economic development, public safety, recreational opportunities and preserving the history of our community. My vision includes addressing and finding workable solutions to fix infrastructure needs, traffic congestion and roadway improvements.
There is no question that addressing the many challenges that face our community will require results-driven leadership, creative thinking, building cooperation and consensus, and a tremendous amount of teamwork.
Our community deserves an effective town board, one that can work and communicate together with a "collective vision" for future prosperity and one that demonstrates unselfish representation and pre-eminent leadership.
I am committed to ensuring that Hope Mills continues to be a wonderful place for all people to live, work and raise their families. Hope Mills continues to grow in residential and economic development growth. Managing this growth requires continued vision, planning and results-driven leadership. We need a vision with the passion, time and energy to continue to build a family-oriented community all of us are proud of today and years to come! I bring to the table many years of results-driven, proven leadership and pledge to listen to citizen issues and concerns, have an open mind on all decisions, and spend a significant amount of time researching community issues facing our community. I am committed every day on enriching the lives of our town citizens by creating an exceptional community to work and live in while providing exemplary town services that enables our community to thrive and prosper, while leading our community as one we are proud to call home … this is my compass. This election is not about me … but all about YOU, your vision, issues and concerns! I respectfully ask for your vote on Nov 2nd.
WARNER: Do you think a plan is needed for downtown?
What is considered our downtown is our historic Trade Street—in the 1900s it was a busy street with shops, a pharmacy, post office, theater, pool halls, groceries and a funeral home to name a few.
Nearby were two Mills and the mill villages where people lived. The train depot and a boarding house also meant visitors came to Hope Mills and spent time on Trade Street.
Today Trade Street is important to our town not only for historical reasons, but it is near our lake where many people congregate for a variety of activities so we are putting more emphasis on revitalization.
This area, with new opportunities for funding, is in the early stages of planning for revitalization — I am excited to say that after early attempts to join the Main Street program did not materialize, we now have a new focus on Trade Street.
We have new businesses willing to share in the vision along with our Historical Committee and Appearance Committees providing leadership.
Our Economic Development Planner supports revitalization in this area and is looking for ways to make it happen.
Election Day is, Nov. 2. On Election Day, go to the polling place assigned to your precinct between 6:30 a.m. and 7:30 p.m. Those in line by 7:30 pm, will be able to vote. If you go to the wrong polling place in Hope Mills and don't have time to go to the correct poll, ask to use a provisional ballot. If you have any questions or concerns you can call the Cumberland County Board of Elections at, 910-678-7733.
If you are properly registered, your vote will count.