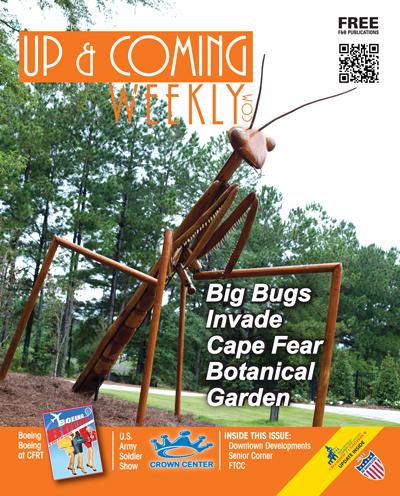 It has been a stellar year for the Cape Fear Botanical Garden. The new 33,000 square foot visitors pavilion opened in April and has been a real boon for the community.
"All along our plan has been for the visitors center to serve as a platform to expand our programming," said Botanical Garden Executive Director Jennifer Sullivan. We've been fortunate that it has worked out like we had hoped it would."
In addition to an upscale gift shop, the center is available to rent for events like wedding receptions and business conferences.
Big Bugs is an exciting part of the new expanded programming that Sullivan mentioned.
It is an exhibit featuring just what the name implies, big bugs — really big bugs. A 1,200 pound praying mantis and three 25 foot-long ants are among the giant insects that can be found in the garden through Dec. 31.
The exhibit debuted at the Dallas Arboretum in 1994. Since then it has been seen nationwide, including the Denver Botanical Garden, Disney's Epcot, New York Botanical Garden and the U.S. National Arboretum.
Artist David Rogers created the sculptures using combinations of whole trees found standing or fallen dead, dry branches and other forest materials. It is the wide range of materials that gives the bugs their distinctive character.
The exhibit is sponsored by Terminix. "We are delighted to have the opportunity to sponsor David Rogers' Big Bugs at Cape Fear Botanical Garden. Visitors will have a fun filled opportunity to come face to face with some of nature's most fascinating creatures," said James Haugh, president of Terminix.
"We've actually been planning this exhibit since 2007," said Sullivan."It has been a long time in the making and we are excited to see our efforts payoff."
Taking full advantage of the nationally known exhibit, the garden is hosting several bug-themed events, for kids and grown-ups alike, through the end of the year, in addition to the regularly scheduled events. Build-A-Bug craft stations will be available daily in the Children's Classroom for youngsters to celebrate their bug love. Be sure to schedule a visit to the Café Cart for a Bug Munch brown bag lunch. Activities are also scheduled on Saturdays from 12-3 p.m. Registration is not required; children are encouraged to drop by. Visitors are invited to check out all the offi cial bug detective gear and merchandise at Cape Fear Botanical Garden Gift Shop.
On Oct. 2, come to the garden and enjoy not only the Big Bugs exhibit, but take in the Heritage Festival and celebrate life in the 19th century. There will be live bluegrass music, barnyard animals, agricultural exhibits and activities for all ages. Look for the demonstrations featuring how food was prepared in the 1800s. There will also be displays and demonstrations of traditional crafts. Stick around for a moment or two and play a game of hopscotch or marbles.
Oct. 20, don't miss An Evening with the Big Bugs and BackBeat, a Beatles' tribute band. The event runs from 6:30 – 10 p.m. Bring a blanket or lawn chair to sit on and enjoy the family friendly outdoor concert. Ticket information is available at www.capefearbg.org.
It is a great deal — for the price of a regular visit to the garden, visitors can see the Big Bugs exhibit and enjoy the Heritage Festival.
Not only is the exhibit a good thing for Cape Fear Botanical Garden, but it promises to be good for the entire city.
"It is fantastic that Fayetteville is going to host this nationally recognized exhibit," said John Meroski, president and CEO of the Fayetteville Area Convention and Visitors Bureau. "It will really put Fayetteville on the map, and is going to introduce visitors from all over to the beautiful botanical garden and our great city."
Find out more about the garden at 486-0221 or www.capefearbg.org and learn about the Big Bugs exhibit at www.big-bugs.com.
Photo: Big Bugs is an exciting part of the new expanded programming at Cape Fear Botanical Garden. Cover photo and story pictures courtesy of Julia Vetrinskaja ( Julia V. Photography).