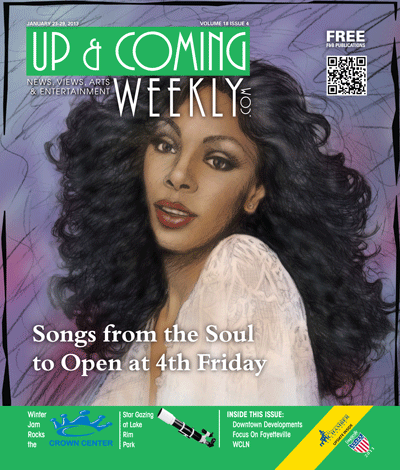 4th Friday, the community's celebration of the arts, is reaching a high note this month, as The Arts Council Fayetteville/Cumberland County and the Friends of African & African-American Art bring an impressive exhibit called Songs from the Soul A Revue: Art Comes to Life to town.
The exhibit contains portraits and educational text panels featuring Smokey Robinson, Bo Diddley, Marvin Gaye, Quincy Jones, Tina Turner, Aretha Franklin and more. Like many of the artists the exhibit celebrates, look for a larger-than-life experience. Along with colorful portraits and illustrations, the exhibit uses black and white photographs and caption panels to shine a light on the relationships between music, history and culture and the influence these artists had in several music genres, including rhythm and blues, jazz, soul, gospel, disco and rock and roll.
"It is colorful portrait illustrations plus black and white photos from William Gottlieb. The photos are more behind-the-scenes with these artists," said Mary Kinney, marketing director at the Arts Council of Fayetteville/Cumberland County. "There is a beautiful one of Billy Holiday in the dressing room. Some are of performers standing outside having a cigarette together or in rehearsal. This particular photographer travelled with these artists, so he was with them during these moments. It is a more intimate scene into their lives."
The portraits on the other hand, "… are very vibrant colors and really fun happy portrayals of the artists. They are all just stunning and musicians are smiling or singing," said Kinney. "They capture warm moments for these icons."
The 23 portraits are the work of international artist Wolfram Schramm who hales from Geringen, Germany. The 15 black-and-white photographs are from the William Gottlieb collection, Songs from the Soul, a collection that reflects the influences of famous African-Americans during the Civil Rights movement through today's pop culture.
More artists who seem to come to life in Songs from the Soul include: Count Basie, Duke Ellington, Louis Armstrong, Billie Holiday, Ella Fitzgerald, Nat "King" Cole, Ray Charles, Michael Jackson, Stevie Wonder, James Brown, Chuck Berry, Fats Domino, B.B. King, Little Richard, Diana Ross, Whitney Houston, Gladys Knight, Mariah Carey, Donna Summer, Patti LaBelle, and Berry Gordy Jr., the founder of the Motown record label, the Apollo Theatre, Cotton Cub, Soul Train.
The exhibit opens on Jan. 25 at The Arts Council. A reception is planned from 7-9 p.m. Fayetteville State University's Department of Performing and Fine Art's performance groups Mane Attraction and Men of Distinction will perform Songs from the Soul — A Revue: Art Comes to Life under the direction of Denise Payton. FSU Jazz Express will also perform under the direction of Dr. Neal Finn. The exhibit will hang until Feb.16. Visit www.theartscouncil.com for more information and gallery hours.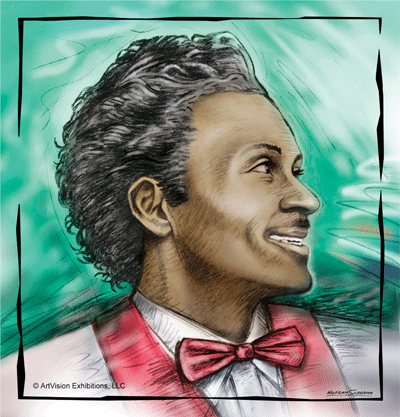 In celebration of Black History month, several activities have been planned around the exhibit. On Feb. 2, local artist and nationally known jazz musician Ray Codrington is scheduled to perform a Jazzy Jam session at The Arts Council from noon to 4 p.m.
"It is a jam session in the sense that other artists will come and play with him and will be coming in an out," said Kinny. "There is a surprise local guest talent scheduled to perform, too. It is someone that people will not expect to see. His profession is not as a musician but he is very talented musically."
On Feb. 16, kids 7-13 are invited to a music and art workshop at The Arts Council. The event is from 11 a.m. to 1 p.m. and is free. Space is limited, and registration is required. Call 323-1776 for more information or to register.
Cape Fear studios opens its 2013 Black History Month Exhibit on 4th Friday. The display features the works of local artists Edwina C. Clark (Cape Fear Studios member artist), Winson Colter Clark (artist and son of Edwina C. Clark), Dwight Smith (artist, FSU professor), Stacey Robinson (artist, FSU graduate). Stop in and meet the artists from 6-8 p.m. on Jan. 25.
The Downtown Alliance is focusing on heart health at 4th Friday and will offer free fitness assessments at J's Fitness Factory. Group fitness classes are planned and attendees get a chance to check out J's Fitness Factory.
Don't forget to stop by the Market House and check out the exhibit covering Fayetteville's Historic District architecture.
Fascinate-U offers free admission for 4th Friday as well as a project. This month, visitors are invited to make Valentine's Day cards. The museum is open from 7-9 p.m. for this event.
The Fayetteville Art Guild, located at Gallery One13, 113 Gillespie St., opens a new exhibit called The Creative Spirit, a juried photography show. The gallery is open from 6-9 p.m. for 4th Friday.
At Hay Street United Methodist Church, the praise bands of Hay Street UMC, Snyder Memorial Baptist Church and Highland Presbyterian will perform a Music 4 Missions concert.
Explore local history at the Fayetteville Area Transportation Museum. The featured exhibit this month showcases Fayatteville's Edgar Allen Poe. Poes was a prominent businessman who lived in Fayetteville in the early 1900s. He manufactured bricks and pottery.
Find out more about 4th Friday at www.theartscouncil.com.
Photo: Vibrant and colorful portraits make up part of the Songs from the Soul exhibit at the Arts Council. Photo credit, www.ArtVisionExhibitions.com