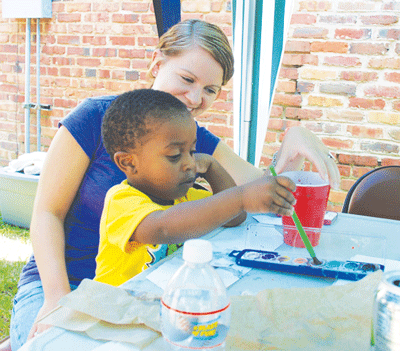 The Fayetteville area is unique in its history and is overfl owing with creativity. For years the Poe House, built in 1897, has been the center of history and heritage in the community, but this summer it will be a center of creativity as well. The Museum of the Cape Fear will use the Poe House as the location for its 2nd Saturdays Arts Fest.
This festival brings together artists of many mediums and the community. This event is family friendly and there is a multitude of activities for adults and children alike to enjoy. Leisa Greathouse, the curator of education for the Museum of the Cape Fear says, "The variety of artists include basket makers, mesh wreaths, custom jewelry, children's hair bows, hand-painted novelty items, pottery and paintings. In addition to all the artists whom families will encounter, the museum offers two very child-friendly activities: candle dipping and water coloring. Both activities are free and the children get to keep what they make. In other words, they will take home a beeswax candle and a watercolor painting of their own work."
Big Ed's Creek Sauce and Catering will be on hand offering BBQ sandwiches and Mike's Tropical Gourmet Icees for a cool delicious desert. Entertainment will also be provided by local musicians such as Evan Young.
Another important role the festival plays in the community is supporting local artists. Greathouse explains that goal by saying "2nd Saturdays Arts Fest is about highlighting the artists and showing the viable role they play in the economy. This is important since many times artists are often discounted for their choice of livelihood. One visitor said to us, 'How nice it was to fi nd affordable art.' We think that says it all."
Over the years the festival has seen incredible growth in participation. "We have seen an increase in the number and variety of artists who take advantage of the opportunity to show and sell their wares, take commissions, and it makes people aware of the caliber of artists that live and work in our community. 2nd Saturdays started as a way to help stimulate the economy and show that the creative industry plays a role in doing so. Visual artists in a historic/cultural setting make a great partnership that people can identify with and, I believe, fi nd unique." Greathouse said.
This year, special programs will take place at 2 p.m. each festival day. For July, Michael Hardy — a Civil War author and historian — will lecture, with funding coming from the N.C. Humanities Council Speakers Bureau. In August, participants will have the opportunity to attend a workshop on geocaching. This workshop will promote geocaching on the local "Trail Trek," which was created by the Fayetteville Area Convention and Visitors Bureau.
The 2nd Saturdays Arts Fest is slated for July 13 and August 10 from 11 a.m. to 4 p.m. Admission is free, but the majority of vendors only take cash. The Poe House, where the Arts Fest is located, is at 801 Arsenal Ave. For more information, contact the Museum of the Cape Fear at 486-1330 or visit www.museumofthecapefear.ncdcr.gov.
Photo: 2nd Saturdays features kid-friendly activites including watercolor painting.