Fascinate-U — Igniting Creativity and Imagination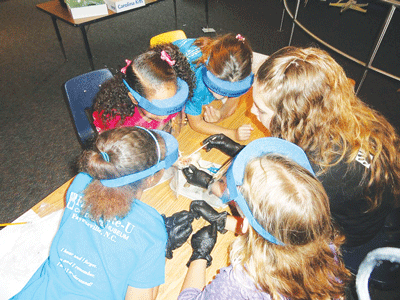 Fascinate-U Children's Museum in Downtown Fayetteville has been fueling the imagination of thousands since 1999. Garnering an impressive following of nearly 50,000 visitors a year, Fascinate-U is a great place where children can experience and learn while still having fun and expanding their creativity and knowledge of the world around them.
"Not one day is the same," said Susan Daniels, executive director of Fascinate-U Children's Museum. "I never know what I'm getting into each day."
Running a children's museum entails a lot of responsibility and a wide list of responsibilities — Daniels may be bookkeeping one minute and cleaning up the next. Boasting many exhibits including a miniature city, Fascinate-U hosts a variety of fun and educational activities for children of a wide range of ages.
The first floor is home to the museum's city. Modeled after a town, there's a post office, grocery store, police station and even a city hall. That's just the tip of the iceberg with more than 20 exhibits on the first floor alone. Daniels said there are plans to replace the first floor's carpeting sometime in September due to the pattering feet of thousands of adventurers.
"It's a hands-on children's museum that encourages learning by role-playing and creativity," Daniels said. Fascinate-U is teaching children about adult life but in a format that encourages exploration with minimal drawback. Using a hands-on approach, learning the basics of grocery shopping or sending a letter through post better equips children with knowledge that just isn't taught in schools anymore.
One of the museum's latest additions is the Fascinating Farm exhibit implemented May 14. The exhibit was a collaborative effort made possible by the contributions of Cargill, Cumberland Community Foundation, Cape Fear Farm Credit, Cumberland County Farm Bureau, Cumberland County Soil and Water Conservation District and Youth Growth Stock Trust. The exhibit was made in hopes of teaching children how food gets from the farm to the dinner table in order to build an appreciation for hardworking local farmers.
The second floor revolves around educational programming. The second floor is open to the general public only during certain events and programs. Every third Saturday of each month, Fascinate-U hosts Super Science Saturdays where children can come learn more about science and math through fun and educational activities. July's activity was making ice cream with just a plastic bag, cream, melted ice and salt.
The third floor contains the Cape Fear Model Railroaders' train exhibit. Children and adults can come to Fascinate-U every first and third Saturday of each month to view the showcase.
Fascinate-U will host a Back to School Bash to prepare kids for the coming school year on Aug. 10 from 11 a.m. to 1 p.m. Expect magicians and animals from Aloha Safari Zoo along with two corn snakes and a bull snake. Don't fret — these specimens are completely harmless.
Fascinate-U is located at 116 Green Street and is open Tuesday through Sunday. When looking for a way to spend your evening with the kids, visit Downtown Fayetteville's Fascinate-U and spark their imaginations with skills and knowledge that is truly priceless.
Photo: Fascinate-U offers fun and exciting events. Above chil-dren help dissect a frog.