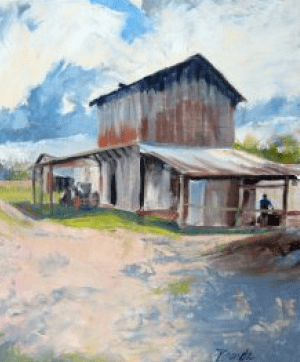 Every month the Downtown Alliance and Arts Council celebrate the best that downtown has to offer. The shops, restaurants and other businesses in downtown Fayetteville come together to create a fun and free evening full of activities. All of the businesses stay open late and much of the family-friendly entertainment is free. The streets are often filled with performances and art of all manner.
This month, the Arts Council opens its latest exhibit, Pictorial Space, presented by Ellington-White. The exhibit hangs inside the Arts Council, but the fun continues outdoors with Scottish music in front of the building from 7-9 p.m.
For 4th Friday, 2-U-Keys, a band comprised of Maliheh and Rhonda is set to entertain guests with two hours of lighthearted fun. The music is created by two voices and two ukuleles that create a beach inspired mood. The program is sponsored by Systel and there will be refreshments. Guests are encouraged to tap and sing along. The 2-U-Keys will perform at the Headquarters Library in the Pate Room from 7 until 9 p.m. The library is located at 301 Maiden Lane, and the event is free of charge. For more information visit www.cumberland.lib.nc.us/ccplsite.
Fascinate-U is a museum in downtown Fayetteville dedicated to children. Exhibits are interactive, and unlike the traditional museums, touching is encouraged. Fascinate-U intends to help prepare kids to navigate the larger world by first practicing on a smaller scale. For 4th Friday, admission is free and the museum stays open late from 7 until 9 p.m. The theme these month is Under the Sea Art. Kids are invited to create and take home an under-the-sea craft. For more information, visit the following site at www.fascinate-u.com/visit/.
After exploring the shops and restaurants in downtown, Fayetteville After 5 offers a relaxing end to the evening. On July 22, On the Border with Kasey Tyndall and Kaylin Roberson perform in Festival Park. The band is an Eagles tribute band from Charlotte. The gates will open at 5 p.m. The opening acts begin around 7 or 7:30 p.m. The concert lasts until 10:30 or 11 p.m. No outside food or beverages are permitted but concessions are available for purchase. Audience members are encouraged to bring chairs and blankets. The free concerts are presented by the Fayetteville Dogwood Festival and R.A. Jeffreys. For more information visit the following site at www.faydogwoodfestival.com/p/Events/211.
These are only a few of the amazing opportunities that 4th Friday has to offer. In addition to street performers and musicians, many businesses offer free refreshments and demonstrations. Additionally, for those who love history ,the Fayetteville Transportation Museum and Market House both offer exhibits that detail the Fayetteville area's long and colorful history. There are new exhibits on display in both locations monthly as well as permanent exhibits.
Cape Fear Studios on Maxwell Street opens a new exhibit on 4th Friday — En Plein Air: Of Light and Color. It features the works of PaintNC, a group of emerging and professional artists who meet regularly to paint "en plein air" (outside on location) within North Carolina. The opening reception is at Cape Fear Studios on July 22 from 6 - 9 p.m.
Fayetteville is an evolving city. From day to day downtown has growing opportunities and evens. 4th Friday's are a reflection of that growth. Every month there are new performers and artists on the streets expressing their creativity. There are also new businesses hosting demonstrations and restaurants creating innovative menus. Fayetteville is dynamic and growing and 4th Friday captures that growth and excitement in a single evening.