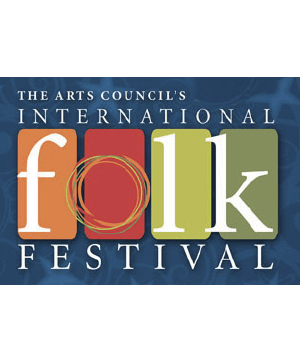 If Fayetteville is anything it is diverse and that is something to celebrate. And celebrating is something the Arts Council Fayetteville/Cumberland County knows how to do. It's hosted the International Folk Festival for 37 years now. This year, the 38th International Folk Festival runs Sept. 23-25.
The event starts with 4th Friday in Downtown Fayetteville. Galleries and stores stay open late and there are activities throughout downtown. Enjoy international music in front of the Arts Council and then head inside to take in the Contemporary Art Forms by America's First People. This exhibit features graphic art, paintings, pottery and photography by North Carolina artists with Native American roots. From there "travel" through Downtown with a Downtown Alliance "International Passport" and collect stamps from the many restaurants and businesses. Register your passport to win a prize. Passports are available at the Downtown Alliance at 222 Hay St. from 7-9 p.m. on 4th Friday.
On Saturday, Sept. 24, the festivities kick off with the Parade of Nations. The parade features representatives from the many cultural groups in Fayetteville. You'll see a variety of traditional cultural costumes and revel in the customs of the many different nations represented there. More than 1,000 participants march in the parade showcasing their heritage and national pride. The Army Ground Forces Band leads the parade and will perform in Festival Park on the main stage throughout the weekend. Festival Park opens at noon and closes at 6 p.m. on Saturday and Sunday.
The stages stay busy all weekend with performances by local groups as well as international performers. Nano Stern is a Chilean singer/songwriter. He's toured with Joan Baez among other well-known artists. Stern takes the stage on Saturday. Easy Playboys brings Cajun, blues and rock to the stage as well. The New Orleans-based group brings a distinct sound to the stage. This returning New Orleans-based band performs both days.
While the Arts Council is careful to keep all the festival favorites like the international food, the demonstrations, the dancing and music, there are a few features that festival goers likely have not experienced yet
"There are some different things this year. One of them is that the stage is moving to the Festival Park lawn. It allows us to expand programming on the stage," said Mary Kinney, Arts Council Director. "There are groups that are usually there on Sunday only, but now they can start on Saturday. It gives them more time and it is a way that more cultures can be represented. This is giving groups more time and more opportunities to showcase international performances early in the day on Saturday."
Food and music are wonderful ways to connect with each other, but they are not the only ways. Technology plays a big part in daily life and this year the festival gives a nod to the role technology plays in today's world. Stop by a "Selfie Station" for a photo with recognizable images from around the world. Or visit the Global Tech Café and use tools from the Cumberland County Schools' ESL Program to break down language barriers. Get a taste of There will be virtual reality and visit different locations around the world using live feeds with Google Cardboard. Take advantage of phone charging stations while you are there.
This year the Arts Council is proud to partner with Compare Foods for the International Folk Festival. "Compare Foods is a grocery chain with several stores in Fayetteville. This is an international grocery store that has foods representing so many countries," said Kinney. "It is an excellent source for ingredients for making dishes from all over the world."
Find out more about the International Folk Festival at http://www.theartscouncil.com/