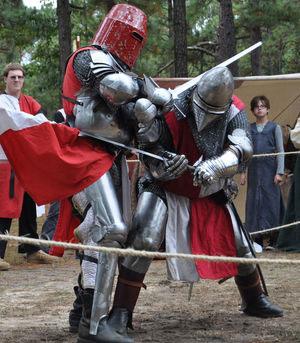 Medieval Fantasies Company in cooperation with the Fort Bragg Family, Moral, Welfare and Recreation Department presents the 7th annual Fort Bragg Renaissance Faire Saturday, Sept. 16, from 10 a.m.-6 p.m. and Sunday, Sept. 17, from 10 a.m.-5 p.m. at Smith Lake Recreation Area adjacent to Fort Bragg.
"This is a celebration of the time period in the Middle Ages of the Renaissance," Chris Pugh, owner of Medieval Fantasies Company, said. "All of that entails shining knights, ladies and food and entertainment that goes along with that." Pugh added this is the seventh year of the faire that serves troops, families and the surrounding areas.
This is one of the many events that the company produces while traveling around the country. The company puts on educational programs as well.
The event will feature classic favorites including turkey legs, the king and queen, a royal knighting ceremony, magician Flabbergast the Wizard, performers Thunder and Spice, Their Majesties The Blackwolfs, The Welsh Corgi Show and Henry Culpeper the Minstrel, The Queen's Jewels belly dancers, musicians, sword swallower Master David and a full combat jousting by Round Table Productions. Some of the activities include flying hooves archery, live field demonstrations, mounted combat and archery and unicorn pony rides.
"We will have a variety of wonderful merchants offering all kinds of exciting and exotic wares for the faire," Pugh said. "We will also have living history that includes the Hanseatic League."
Other free activities include chess, Enchanted Unicorn/Mystical Nightmare Ring Toss, Bouncy Dragon, Bouncy Castle, stocks and crafts by Frame and Design Arts. The Masquerade Ball is Saturday from 4:30-5:30 p.m.
"We are inviting everyone to come out to participate in this fun event," Pugh said. "It is a family-friendly event and is a wonderful way to spend the weekend."
All patrons are welcome. Period and modern weapons are not permitted. No alcohol, coolers or pets allowed. The cost is $10 per car load. Smith Lake Recreation Area is located at 1200 Honeycutt Rd. For more information, visit www.medievalfantasiesco.com/FortBraggRenaissanceFaire.htm or call (540) 294-1846.