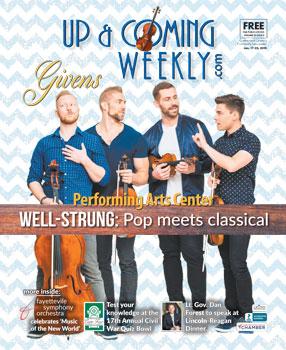 Well-Strung is a New York City-based singing string quartet that thrives on juxtapositions. Fusing classical music with pop is its claim to fame, and shaking up the stereotypical image of string instrument players adds a layer of fun. The quartet comes to the Givens Performing Arts Center Tuesday, Jan. 23.
Edmund Bagnell (first violin), Chris Marchant (second violin), Daniel Shevlin (cello) and Trevor Wadleigh (viola) have been performing as a group since their debut at the Ars Nova theater in NYC in February 2012. When they performed again at a pub in Manhattan a few months later, they'd generated so much buzz that the show promptly sold out.
The group was conceived by producer and manager Mark Cortale and Marchant. Cortale saw Marchant busking with his violin in Provincetown, Massachusetts, in the summer of 2010. At the time, Marchant was singing in a show at The Art House and was busking on the side for extra money.
"He was really fantastic," Cortale said. "The next day, I approached him ... to discuss an idea I had for a solo show for him." Marchant loved Cortales' idea to do a show that combined pop and classical music but suggested expanding it into a quartet.
The rest is well-documented history. Well-Strung has been reviewed by The New York Times, New York Magazine, Broadway World, The Huffington Post, Buzzfeed, "The Today Show," CBS News and ABC News. They've also performed for President Barrack Obama.
Up & Coming Weekly talked with Bagnell about the ins and outs of being a member of Well-Strung.
Up & Coming Weekly: Who does the work of transforming existing songs into music uniquely composed for Well-Strung?
Bagnell: We do about ninety percent of the arranging ourselves, and it's split pretty evenly among the four of us. In many cases, one of us will get inspired and bring an arrangement to the group.
UCW: Describe your approach to musical performance and entertainment with Well-Strung.
Bagnell: We love music, and we like to have fun with music, and in that we bring a certain sense of humor to some of our pop/classical mashups.
Above all else, we want our audiences to have a wonderful time at our show. We play a whole range of music from the 17th century all the way up to pop songs from this year, and we like to emphasize that good music is good music – no matter when it was written. … So, for instance, we'll layer Aaron Copland with Taylor Swift, and Radiohead with Bach.
UCW: What is one of the craziest or funniest things that's happened to you while performing onstage?
Bagnell: Luckily nothing too crazy has happened, but I will say that I seem to be the only one out of the four of us who consistently breaks a string on stage. About every four months I'll have to run offstage during a show to go replace a string that broke.
UCW: What is your favorite part of performing with this quartet?
Bagnell: I love performing live with these guys. We're like brothers, and we've done so many shows together I think we've become really good at reading each other onstage and being spontaneous musically. I also love that there are no rules to the music we play – if we want to play country music, we do it. If we want to play Mozart, we do it. It's very liberating.
James Bass, GPAC director, said it's this mentality that makes him so excited to have Well-Strung on the GPAC stage.
"We have to keep our season lineup diverse," he said. "We have popular music, we have Broadway musicals, we have straight theatre, and we have large music ensembles. But what Well-Strung brings is something different – it's a show that can satisfy hardcore music fans, pop music fans and people who just want to have a lot of fun with their friends."
The members of Well-Strung are not just varied in their music, they're also varied in their talents. Marchant and Wadleigh competed as a team on CBS' "The Amazing Race," which was filmed this October and premiered Jan. 4, 2018. Visit www.cbs. com/shows/amazing_race/cast/215804/ to view their #TeamWellStrung profile.
Visit uncp.edu/gpactickets or call 910-521-636 to purchase tickets for Well-Strung's performance at the GPAC Tuesday, Jan. 23, at 7:30 p.m.
Meet the bandmates
Edmund Bagnell (first violin) comes from South Carolina where he attended the South Carolina Governor's School for the Arts and went on to attend New York University as music major. His senior year, he was cast as Tobias in the first national tour of "Sweeney Todd," directed by John Doyle. He has performed as a violinist, actor, and singer in NYC and around the country. Credits include Charlie Brown in "You're a Good Man, Charlie Brown" and Tom Sawyer in "Big River" (Summer Theater of New Canaan).
Chris Marchant (violin) grew up in Akron, Ohio, where he began playing violin thanks to his mother's urging. Throughout high school, Chris was involved in school and regional orchestras and choirs. He received a Bachelor of Arts in music ministry from Malone College, where he discovered a love of musical theatre. Credits include Tobias in "Sweeney Todd" and "Spring Awakening" (both national tours). Follow him on Instagram and Twitter: @chrisjmarchant.
Daniel Shevlin (cello) is originally from South Jersey and has been playing cello since he was ten years old. He moved to New York City at age 18 to pursue a career in musical theater. Since then, he has toured the U.S. and Asia in productions of "Rent" and "Cabaret" and has worked regionally as an actor and cellist in many theaters, including the Arvada Center (Colorado), Maltz Jupiter Theatre (Florida) and Mason Street Warehouse (Michigan). He studied musical theater at the American Musical and Dramatic Academy and has been a member of Actors Equity since 2006.
Trevor Wadleigh (viola) is a native of Kent, Washington, and began studying viola at age 17 under the tutelage of Joyce Ramée. He earned a Bachelor of Arts from the University of Puget Sound with major concentrations in business and music performance as well as a minor in comparative sociology. While completing undergraduate coursework, he studied concurrently with Burton Kaplan of NYC where he completed an Artist's Certificate program at the Aaron Copland School of Music. He has served as principal and section violist of the Lake Union Civic Orchestra (Seattle, Washington); Yakima Symphony (Yakima, Washington); Brevard Music Center Orchestra (Transylvania County, North Carolina); and Nova Philharmonic.