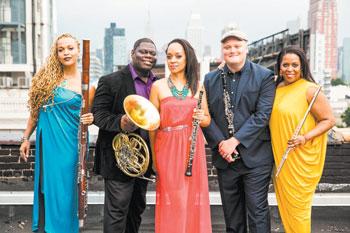 Fayetteville State University presents Grammy-nominated Imani Winds Tuesday, March 6, at 7 p.m. at J. W. Seabrook Auditorium on the FSU campus.
"Imani Winds is actually coming back because they did a residency for us back in 2010 for a year," said Dr. Don Parker, FSU interim chair for the department of performing and fine arts. "They did some collaborations with the community (and) with FSU and worked with our students in terms of technique."
Parker added that the group premiered a piece that was an original work, and they restructured it so that it would be a part of something that they were doing for Fayetteville State involving the choir and jazz program.
"Our performances are very spirited, soulful, virtuosic and very much something that is somewhat unexpected," said Monica Ellis, bassoonist of Imani Winds. "I think a lot of people don't think they are going to enjoy it because, if you don't know our group or never heard of us, you would just think that these are primarily black folks playing classical music."
Imani Winds is a quintet that features a clarinet, flute, oboe, bassoon and a French horn. The group has been performing for more than 20 years. They have bridged a gap between American, European, Latin and African styles. The group began in New York City. "All of us were in New York for graduate school either at Juilliard, Mannes School of Music or Manhattan School of Music, and it was our flute player, Valerie, who had the initial idea of the group," said Ellis. "It was her brainchild to put together a wind quintet made up of musicians of color and (that) us having similar cultural backgrounds would ... bring a certain style, interpretation and flavor to the classical repertoire."
The group has received numerous awards and collaborated with incredible musicians and icons, particularly in the jazz world.
"Jazz musicians have an affinity for our sound and what we bring, which is a really big sound," said Ellis. "We want to have an intimacy about the music we play, but we also want to have a robust, big and juicy sound that you can sink your teeth into and not have the notion that classical music is supposed to be light and fluffy stuff."
Parker said, "This concert will be a nice little reunion because many of the students who were involved with Imani Winds when they initially were here will come back to see them because they are like family now. We want everyone to come out and enjoy this great event."
Admission is $10 for the public and free for FSU students. For tickets call 910-672-1724. For more information, call 910-672-1571.