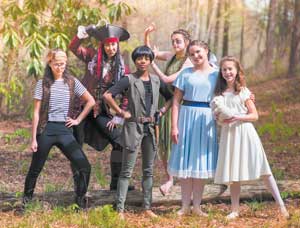 Alpha & Omega Dance Academy is bringing Peter Pan, Captain Hook and the Lost Boys to the Sandhills with its spring recital, "Neverland." The AODA team welcomes the community to enjoy this unique, dance driven presentation of Peter Pan's story Saturday, June 9, at Fayetteville State University's J.W. Seabrook Auditorium.
A scaled-down children's recital, featuring dancers ages 3-6, begins at 10:30 a.m. "Neverland," the larger production showcasing students ages 7 and older, begins at 3 p.m.
"Instead of holding a typical dance recital, our artistic staff and dancers work hard to provide a theatrical and thematic production, complete with a cast of main characters, narration, acting, costumes and creative sets and props," said AODA owner and instructor Rachel Choi.
AODA offers classes ranging from pointe to hip hop, and each of those classes will tell a part of the story – from ballerinas flying to Neverland to tap-dancing crocodiles to musical theatre performing the iconic song "Ugg-A-Wugg."
"Whether you're attending our (production) to support your friends or decide (if) our studio is right for you, we're excited to give you a sneak peek into our world of dance," said Sarah Pages, artistic and production director and dance instructor.
Choi said, "I hope this will be an entertaining show, but even more so, I hope 'Neverland' will serve to inspire everyone, young and old, to never forget the beauty and power of imagination, hope, belief and friendship – and perhaps a little bit of pixie dust."
AODA is a Christian studio and one of the only local non-competitive dance studios. Its ratings on popular platforms like Facebook boast 5 stars. Past AODA productions include "A Puppet to a Boy" ("Pinocchio," 2012), "Oz" ("The Wizard of Oz," 2013), "Narnia" ("The Chronicles of Narnia," 2014), "Alice" ("Alice In Wonderland," 2015), "Adventures with Mary and Bert" ("Mary Poppins," 2016) and "Belle"( "Beauty & The Beast," 2017).
Tickets to "Neverland" on June 9 cost $10 and include entry to the morning children's recital. They can be purchased in advance at AODA, 201 S. McPherson Church Rd., or at the door the day of the production at J.W. Seabrook Auditorium. AODA students and children under the age of six enter free. Seating begins 30 minutes prior to each show.
Visit www.alphaomegadanceacademy.com or call 910-860-1405 to learn more.