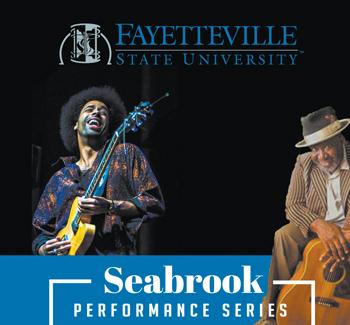 Fayetteville State University's Seabrook Performance Series presents "An Evening of Blues," featuring Selwyn Birchwood with Big Ron Hunter. The show is set for Sunday, Nov. 11, at 7 p.m. at J. W. Seabrook Auditorium on the campus of FSU.
"The performance series was created to bring more interaction between the university and the community," said Steve Mack, executive director of the Seabrook Performance Series. "We felt that doing these concerts would bring more people out and get some people over to campus that have never been to campus."
Mack added the series organizers wanted to bring in a level of entertainment that they felt people could appreciate. The goal is that instead of driving to other cities to see a lot of these same artists, by bringing big names and great talent to Fayetteville, people would be able to enjoy high-quality entertainment close to home – and potentially bring people from out of town to come to the concerts.
Mack knew from the outset that variety would be key. With that in mind, the performance series offers a wide range of entertainment. "We've got jazz, blues, dance, magic, illusion and we are trying to cater to all different tastes," said Mack. "Everything may not be suitable to everyone, but there might be something in there that somebody really likes."
This performance combines two unique takes on a classic genre. "Selwyn is an award-winning contemporary blues artist, and Big Ron Hunter is a traditional, well-known, established blues artist," said Aaron Singleton, marketing consultant for the Seabrook Performance Series. "We just think the two will complement each other and attract different people into the art of blues as an audience."
Selwyn Birchwood is an American blues guitarist who plays the electric guitar and the electric lap steel guitar. His album "Don't Call No Ambulance" received the Blues Music Award and Living Blues Critic's Award for Best Debut Album of 2014. He also won the 2015 Blues Blast Rising Star Award.
Big Ron Hunter is a native of Winston-Salem, North Carolina, and is a big North Carolina favorite. He is a member of the Music Maker Relief Foundation. He has graced stages in France, the Lincoln Center, jazz festivals and more.
"We have a great slate of shows, and people should be on the lookout and come out and participate," said Singleton. "It is a great bargain for the price and great entertainment at an awesome cost."
Tickets cost $20 to $75. For more information or sponsorship opportunities, or to purchase tickets, call 910-672-1724 or visit http://bit.ly/2yLWMrv.