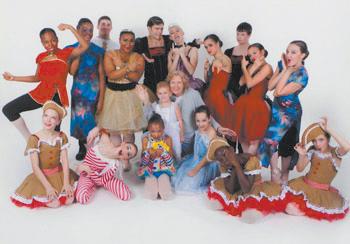 Clara. Drosselmeyer. Nutcracker Prince. Snow Queen. Mouse King. These characters from the beloved Christmas ballet "The Nutcracker" often bring to mind images of wonder, imagination and the enchanting beauty of classical ballet. One thing that may not come to mind, though, is inclusion and diversity. The Dance Theatre of Fayetteville, founded by Ann Clark Crummie in the 1950s, provides a unique take on "The Nutcracker" in that it creates a space where every young dancer in this community can perform in the iconic story. Factors that don't matter one bit include income level, race, disability and a physical appearance that may not match the stereotypical ballerina. See TDTF's production at Methodist University's Huff Concert Hall Nov. 30, Dec. 1 or Dec. 2.
When Crummie founded TDTF, she made sure it would be homegrown through and through. She encouraged parents of dancers attending any studio in Cumberland County to join the board. The goal was to connect and support young, local dancers. In the '70s, Crummie homed in on a passion project that embodied her mission with "The Nutcracker." Though she passed away last May, her legacy and this production continue to grow.
TDTF's "The Nutcracker" is not just open to all Cumberland County dancers – it's solely comprised of them. "Every role in our (show) is performed by locally raised dancers that attend our local dance studios," said Assistant Art Director Tara Herringdine.
Art Director Leslie Dumas said sometimes they get dancers who barely know anything about classical ballet, but nobody gets turned away. "They might have a very minute part, but they're still in it," she said. Some of those dancers stick with it every year and eventually perform major roles as they improve.
Herringdine, who owns Cumberland Dance Academy in Hope Mills, trained under Crummie from the time she was 5 and first danced in TDTF's "Nutcracker" at age 6. She supported Dumas in creating most of this year's choreography, along with Becca Fazekas, Thomas McGill and Beth Heisel. Some of Crummie's original choreography is featured in the show as well.
A unique element in their take is the inclusion of dynamic acrobatics. Dumas' studio, Leslie's Dance Academy, is located in CountrySide Gymnastics. Consequently, many of her students are also gymnasts who have qualified for and won national competitions. "We have a great Russian sequence this year," Dumas said. "Everyone is doing flips."
Dumas added that this year also features 12 beautiful new character costumes. TDTF pays for all the costumes, a significant effort as expensive costume fees are a common deterrent to dancers participating in recitals. The TDTF board raises the funds necessary for "The Nutcracker" by holding two fundraisers each year.
This year features about 85 dancers ages 7 to 18 and a few college students who are returning to dance in their favorite show. Primary roles include Kiley Brunson as Clara, Riley Brantley as the Prince and Ti'era Basehart as Drosselmeyer.
Showtimes for "The Nutcracker" at Huff Concert Hall are Friday, Nov. 30, at 7:30 p.m.; Saturday, Dec. 1, at 7:30 p.m.; and Sunday, Dec. 2, at 3 p.m. Tickets cost $10 in advance or $15 at the door for adults, $5 for those 18 and under and free for children 4 and under.
Visit www.dancetheatreoffayetteville.com or call 910-850-6363 to purchase tickets.