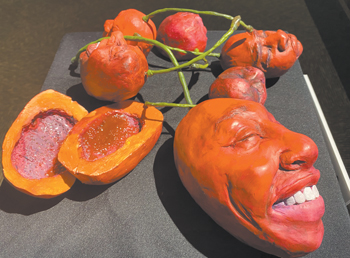 The Arts Council of Fayetteville/Cumberland County presents the "Troublesome Presence" exhibit until March 13. The intent of the exhibit is to create conversations about troublesome moments for African Americans in today's society.

"The exhibit, as far as the artwork that is featured inside of the art gallery, includes paintings, sculptures, videos, mixed media, photography, spoken word, poetry and movement," said Metoya Scott, public relations manager at the Arts Council. "The exhibit features 19 pieces by 13 black North Carolina-based artists, and it is an amazing exhibition that is very thought provoking."

The presenting artists are Derrick Beasley, Johnny Lee Chapman III, Dare Coulter, Andre' Leon Gray, Jaki Shelton Green, Carly P. Jones, Stephen Hayes, Anthony Otto Nelson Jr., Nicole Oxendine, Telvin Wallace, Lamar Whidbee, Antoine Williams and Stephanie J. Woods.


"There is a five-minute film in our west gallery that loops all day long," Scott said. "It is called 'Free Market.' It features an original poem and movement that was directed by Michael S. Williams and was filmed at the Market House in downtown Fayetteville." In the piece, Williams speaks about the value that is placed on African Americans in history and today.

"With this exhibit, 'Troublesome Presence,' we are looking at identity, agency, introspection, intersectionality and other things," said Williams, independent consultant, curator and founder of The Black On Black Project. "The title of the exhibition comes from a speech that Abraham Lincoln gave in 1852 when he gave a eulogy for Henry Clay, who was president and one of the founders of the American Colonization Society, in which Lincoln referred to free African Americans as a troublesome presence on slaveholders."
The Black On Black Project website, https://www.blackonblackproject.com, explains why America needs to be willing to examine its stance on equality saying, "This work matters because important conversations about equity need to happen so that all community members are valued. A diverse community can be enriching, but engaging in dialogue about identity and difference is a must.

"This work makes a difference in the lives of marginalized individuals and communities by allowing space to be seen and heard. It also makes a difference in the lives of the larger community by creating space to engage with others. When this engagement and dialogue happen, everyone's life is enriched."

Williams added the idea of the exhibition is to show the antithesis of troublesome — that African Americans have not been troublesome in the United States.

"One of the pieces in the exhibit includes two works called 'A Radiant Revolution II' and 'A Radiant Revolution III' which are mixed media pieces by an artist named Stephanie J. Woods from Charlotte," said Williams of the two-piece installation that is considered one work. "The work really highlights how much (black women matter) and how important black women are and how showing black women their 'black is beautiful' and 'strong black girl,' which is another phrase in one of the works, (is important).
"There's a piece in the show called 'Untitled,' and it is another video piece," said Williams. "It features words from North Carolina poet laureate Jaki Shelton Green, dance instructor Nicole Oxendine and opera singer Carly P. Jones, who are outliers in their respective fields because you don't see a lot of African American women in those roles. The idea is to show you have agency.

"Through artwork and some of our programs and workshops, we hope to showcase these 13 North Carolina-based artists and the work that they produced to show African Americans in a different light other than troublesome, but rather (as) folks who have done a lot to help the United States," said Williams. "Through that, we hope to bring communities together to have somewhat difficult conversations about some of the things we face today."

On its website, the Arts Council notes "The Arts Council of Fayetteville-Cumberland County partners with the Black On Black Project to produce an art exhibition and community programming that respond to the challenges communities of color face locally and across the country. After spending time in conversation with local leaders and members of the community, we've created an exhibit that aims to reflect a diversity of experiences. This partnership desires to bring more perspectives to the table for an open, honest dialogue to create an equitable future."

There are four remaining events at the Arts Council in conjunction with this exhibition.

Tuesday, Feb. 18 at 7 p.m. is a screening of "Wilmington on Fire." The documentary covers the only successful coup in United States history, which happened in 1898 in Wilmington, N.C. Following the screening, a panel discussion will take place, featuring the director of the film, Christopher Everett, as well as some of the documentary's other team members.

Thursday, Feb. 20 at 7 p.m. is a panel discussion titled "How artists can affect change in the community." The panelists are Derrick Beasley, artist; Dare Coulter, artist; Sherris Johnson, founding director of OUR Place; Sonny Kelly, writer and performer of "The Talk."

Thursday, Feb. 27 at 7 p.m. is a panel discussion titled "The importance of understanding and documenting history."This panel discussion will address how the documentation of history will affect how people remember history later.

Friday, Feb. 28 at 7 p.m. is an evening of spoken word. Featured poets include Ayanna Albertson, Ashlee Connors, Ashley Lumpkins and Sherris Johnson. The poetry is written in response to the "Troublesome Presence" exhibit. The spoken word event is the Arts Council's monthly Fourth Friday event.

The film screening and three panel discussions are facilitated by Williams.

Seating is limited for the programming events, so attendees should RSVP by emailing admin@theartscouncil.com or by calling 910-323-1776.

The exhibit is free and open to the public. For more information visit https://www.theartscouncil.com. or call 910-323-1776.

Picture 1: "The Blacker The Berry" by Dare Coulter

Picture 2: "Through It All" by Lamar Whidbee