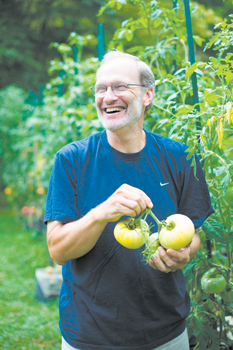 The Extension Master Gardener Volunteer Association of Cumberland County will host its 2021 Master Gardner Spring Symposium virtually on March 20 from 8:30 a.m. to 12:30 p.m.
The purpose of the horticultural event is to help educate local residents in "state and research approved horticultural practices," and raise money for education. With this event, two $1,500 dollar scholarships will be awarded to FTCC horticulture students, as well as a $500 grant for a horticulture professor teaching hands-on horticulture education.
Participants will not only be helping those students and professors with an educational opportunity, they will also be helping Master Gardeners to go out to provide physical and financial assistance to surrounding area gardens. These area gardens include Cape Fear Botanical Garden, the Wounded Warrior Garden at Fort. Bragg, the Second Harvest Food Bank and Garden, and more.
Guest speakers at this year's symposium will be Kirk Brown, who is a nationally known horticulturist. His presentation, "A Gardeners Guide to 200 Years of Growing America," will speak to the importance of "sowing, growing and owning green in our lives." During the presentation, Brown will be talking about travels in America and how to recognize the design and art within gardening. In a second presentation, "If I had an Apple," Brown which will discuss what the digital generation knows that older gardeners may have forgotten and how social media, crowdsourcing, etc., can actually work for people who work hard in the dirt for their gardens. This presentation will show different examples of gardens that he calls "American Edens."
Another guest speaker will be Craig LeHoullier, also known as the North Carolina "Tomato Man." LeHoullier will discuss how those who garden in the 2020s are the most fortunate and will use history to explain why. He will also talk about how his 15-year-old dwarf tomato breeding project has now landed him with 135 new varieties. LeHoullier will also explain his techniques in producing such a great garden and compare how the different living zones contributed.
Registering for the symposium will allow Master Gardeners to provide assistance to the community as well as educate locals and help them to get their gardens up and blooming this spring/summer season. This event will be include door-prizes, a virtual auction and a virtual tomato sale of LeHoullier's variety of tomatoes. The registration link, action link and tomato sale link are provided below. This event is one you will not want to miss and provides a "once in a lifetime learning experience" from professional gardeners.
Judy Dewar, chairperson for this event said, "We hope to improve all of our quality of lives by providing educational opportunities for residents to learn how to be good stewards of our environment while also being sustainable. And just because life is short, we hope our participants will have a 'fun time' while they are with us."
Registration for this "one in a gardening lifetime event" can be made on Eventbrite on the following link: https://www.eventbrite.com/e/cumberland-county-master-gardener-virtual-symposium-2021-tickets-13508558
To bid on items in the auction – with items ranging from artwork, handmade quilts to live plants – visit https://www.32auctions.com/CCEMGVA . The tomato sale link is https://www.32auctions.com/Tomatoes. The tomato plants offered for sale are dwarf tomatoes that are part of the "Dwarf Tomato Project."
Pictured above Craig LeHoullier