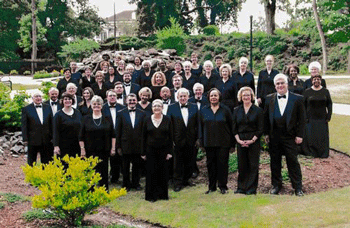 The Cumberland Choral Arts began in 1991 and are now celebrating their 30th anniversary. Sandy Cage, the President of the Board of Directors for the CCA, says they are still the best-kept secret in Fayetteville.
They are a community group that welcomes anyone to join. They don't do formal auditions, rather they do voice placements. They hold several performances in a non-COVID year.
One of their annual traditions is to perform the Messiah, a classical work by George Frideric Handel that is best known for its "Hallelujah" chorus. The CCA will be partnering up with the Fayetteville Symphony Orchestra for the second performance in a row to present the piece to the community, just in time for Christmas.
"I think there are people in the community who look forward to this every year," Cage said. "There are some who say that it's not Christmas yet until they come and hear the Messiah."
The annual tradition started at Fort Bragg but grew and is now performed for the majority of the Fayetteville community.
While COVID-19 did shut down CCA performances for close to two years, some positives did come out of it.
The CCA continued to post virtual performances on their social media pages and one of their videos went viral.
"We are extremely excited because last year when we couldn't do our normal concerts, we ended up doing virtual pieces, and our artistic director, Michael Martin, worked to put those together and one of them was noticed online and we received an invitation to sing at Carnegie Hall in May," Cage told Up & Coming Weekly.
Cage explained that the composer of the piece is having a musical festival at Carnegie Hall, and because the composer noticed their cover of the piece online, the CCA has been invited to participate. There will be 32 performers going to New York to participate in May.
"We never dreamed anything like that could ever happen, so that invitation was quite a shock but a wonderful one. We are really looking forward to it," Cage said.
The future of the CCA is looking bright as more people attend and join the choral group.
"We are looking forward to growth in our group, more people singing, more people attending our concerts and possibly sponsoring our own music festival," Cage said.
She also tells Up & Coming Weekly that there are plans to possibly hold a European tour in the next couple of years.
The upcoming concert, Messiah, is free to attend and no reservations are required. However, they are asking audience members to wear masks during the event.
The concert will feature four soloists, one being a local school teacher - Leigh Montague.
Montague is a Fayetteville native and attended Pine Forest High School. She graduated in 2008 and attended UNC Pembroke. She currently teaches at Cumberland County Schools and has done so for the past nine years.
The community concert will take place at Cedar Falls Baptist Church. Doors will open at 2 p.m. and the concert will start at 3 p.m. on Dec. 5.