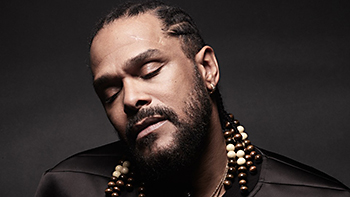 No adult over the age of 35 doesn't recognize the sweet melodic voice of Maxwell as soon as the first note is dropped. Maxwell Night: The Trilogy Show is coming to the Crown A on Oct. 20. The show starts at 8 p.m. Tickets range from $59 to $200 for premium front-row seats.
For those interested in a VIP experience, seats are still available. VIP ticket holders will be seated in the first 12 rows and receive a specially designed Maxwell tour shirt, an exclusive Maxwell merchandise item, a commemorative tour laminate and an on-site VIP host. Attendees will have a large selection of cocktails, wine and beer from multiple bars around the coliseum and hot, delicious food. Fans will be able to purchase exclusive Maxwell merchandise in the concourse during the concert.
Maxwell has been serenading music lovers for over two decades, continuously pumping out hit after hit. The perfect date night or girls' night option, Maxwell will set the mood for an elevated evening of music and nostalgia.
For those who follow the artist on social media, he is fully prepared to put on a show for his faithful fans. The concert is set to be an R&B lover's dream.
Opening for Maxwell, but not an afterthought, is the multitalented Alex Isley. Alex's sound is smooth and sultry, entrancing listeners with her poetic lyrics and soulful voice. The daughter of famous singer Ernie Isley of the Isley Brothers, performing for an audience is in her genes. Maxwell is a big name for Fayetteville. There was also a substantial amount of work put in to make this concert and more events like it.
"Our General Manager, Seth Benalt, works all year to line up talented performers like Maxwell. This process involves building positive relationships with promoters and helping to educate them about the potential that exists in our market," said Maddy Eversole, marketing director at the Crown.
"It isn't just a one-person job though. A huge part of the equation when it comes to securing big acts at our facilities rests with our community. The support of our community coming out to these shows is what will help us continue to bring impressive shows to Fayetteville."
The Crown Complex has more in store for area residents.
"This fall in the Crown Theatre we have a full lineup of shows including Gladys Knight and The Ville City Blues Festival featuring Tucka, King George, Calvin Richardson, Pokey Bear, Theodis Ealey and J-Wonn," said Eversole.
"In the Coliseum, we have Jeezy & Friends taking place on Nov. 25. We are also starting to announce our Spring lineup, so guests should follow our Facebook page, facebook.com/crowncomplexnc, to get updates about all the exciting shows we're bringing to the area.
Attendees can also visit our website to view our entire show calendar for all our facilities."
Concertgoers are reminded of the clear bag policy at the Crown Coliseum. More information about that and other policies can be found at https://www.crowncomplexnc.com/visit/venue-policies.
For tickets and more information, call 910-438-4300 or visit https://www.crowncomplexnc.com/events/ticket-office.