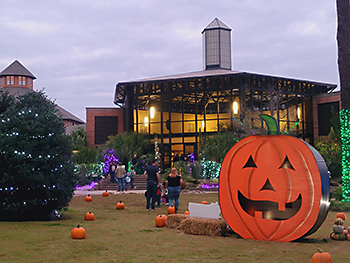 The botanical garden has been taken over with colors of orange, black and even purple. Strings of lights hang overhead; walkways are lit by strings of twinkle lights. Lights bounce off the pumpkins that hang, and the ghosts must have wanted to join them. In a larger, more open area stands a very tall and seemingly happy jack-o-lantern among large displays of lights.
The folks at Cape Fear Botanical Garden are getting ready for a spooktacular time — an event sure to draw out all those ghosts, goblins, monsters, creepy-crawlies and, of course, sometimes the scariest of the bunch — kids.
"Halloween at the Boo-tanical Garden is one of our main fundraising events for the year, so it not only provides our community with safe, fun and natural places to explore during the event itself, but helps support the mission all year round of connecting people to their natural environment through touring the grounds, participating in education events, volunteering and more," said Beth Hess at Cape Fear Botanical Garden.
Hess and others at CFBG are gearing up for another Halloween at the Boo-tancial Garden. This year's "dance party" themed event is presented by Cape Fear Valley Health. The outdoor, walk-through, interactive experience will take place Oct. 26 through Oct. 29. Hess said the members at CFBG hope attendees will get quality time with family and friends.
"There is truly something that people of every age will enjoy during the event — whether it's trick-or-treating, light displays, spooky stories, the Jack-o-lantern lawn, the dance party, skeletons dressed as famous musical acts or any of the other attractions, it will be a spook-tacular time," she said.
This year will also bring thousands of lights, light displays, candy stations, a costume contest, a dance party, a reptile display, bone digging for kids and food and beverages for all. The garden will also welcome leashed dogs on Oct. 26 for the event. Other special features will include extra candy stations on Oct. 26, and spooky stories and songs on Oct. 28. Food and beverage may vary by night. Hess said they expect around 5,000 people total across the four nights, which is about the same as last year's numbers.
"This is an area tradition and Fayetteville favorite," Hess said.
The event will be open from 5:30 to 9 p.m. on Thursday, Friday and Saturday. On Sunday, the event will be open from 4:30 to 9 p.m. Advanced tickets are available, ranging from $7 for kids ages 3 to 10, $10 for members and $12 for non-members. Candy stations will require event goers to bring their own bags, and flashlights are recommended for those attending in the evening hours.
For more information, visit www.cfbg.org or call 910-486-0221.