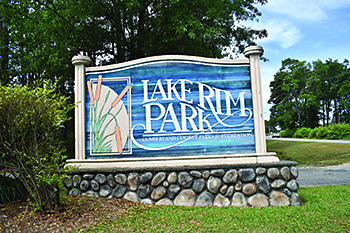 Fayetteville-Cumberland Parks and Recreation offers a variety of locations around town to enjoy the outdoors and learn about local flora, fauna and wildlife.
In addition to park facilities, there are a number of activities scheduled for November. Below are just a few, so be sure to check https://www.fcpr.us/facilities/recreation-centers for more information.
Mazarick Park, 910-433-1579)
Nov 2: Fall Mosaic
While discussing the changing of the season, collect different items from the trail to create a fall nature mosaic.
All ages; Thurs.; 10-11:30 am; Free
Lake Rim Park, 910-433-1018
Fishing Tackle Loaner Program
Try your hand at fishing without buying the equipment. This program allows you to borrow a rod and reel for 24 hours and provides a great opportunity for the whole family to get outside. A driver's license or ID is required to register. Participants must follow state fishing license requirements.
All ages; Mon.-Fri.; 8 am-5 pm; Free
Park Ranger Chats
This lecture series will focus on a new topic each month. Program is held at the Bill Crisp Senior Center. Call Lake Rim Park or the Bill Crisp Senior Center to register. Nov. 1: Mystery of the Sand Mound People. Native people inhabited the region thousands of years before the first European explorers. Arrowheads, pottery, and their characteristic burial mounds remain as clues to understanding Fayetteville's earlier people. Learn about the lives of this little-known group and about possible links with living descendants.
55+; Wed.; 1:30-2:30; Free
Youth Archery Clinic
This is an introductory class for younger archers. Smaller bows and a shorter class time will help beginning archers learn the basics of safety, equipment care, and proper form. Parent or guardian must stay and supervise. Call or register online, space is limited.
5-7 yrs; Sat., Nov. 4; noon-2 pm; $5
Stained "Glass" Leaf Art
Bring your old crayons to this fun class where we will crunch them up and melt them into art. Learn some common tree species from around the park and collect their colorful leaves to form the centerpiece of your creation. Then you will be ready to decorate your winter windows.
All ages; Thurs., Nov. 9; 3:45-4:45 pm; Free
Thanksgiving Animal Hunt
"Stuffed" animals will be on hand to teach about the different native animals and traditional foods associated with Thanksgiving. Practice your hunting skills on a scavenger hunt to find some of these animals hiding in the woods. Call or register online.
All ages; Thurs., Nov. 16; 4-5 pm; Free
Clark Park, 910-433-1579
Animal Feedings!
Alligators chomping, snakes swallowing, and turtles snapping, come see what is for dinner at the nature center.
All ages; Wed.: 4 pm and Sat.: 2 pm; Free
Nature Story Time
You and your child are invited to Clark Park for an interactive story time with the Cumberland County Public Library. The story will be followed by themed crafts and activities. Call or register online.
6-under yrs. w/adult; Tues., Nov. 14: Bears; 1-2 pm; Free
Big Tree Bike Ride
Bring your bike to travel along the Cape Fear River Trail in search of the biggest trees. Learn how to use a Biltmore stick to determine the height and width of trees along the trail. Call or register online.
8+ yrs.; Tues., Nov. 7; 10 am-noon; Free
Native American Culture
Native Americans had inhabited North Carolina for thousands of years before the first European explorers arrived and changed their world forever. Learn how the original people of North Carolina lived before contact. Through demonstrations and artifacts, you will learn what people in this region ate, what they wore, and the tools they made to help them survive. Call or register online.
8+; Tue., Nov. 7; 3:30-5 pm; Free
Turkey Shoot Archery
This is the basic archery class with a holiday theme. Learn safety, proper stance, and correct technique then practice on turkey shaped targets and play holiday themed games. Call or register online, space is limited.
8+ yrs.; Wed., Nov. 22; 9 am-noon; $5