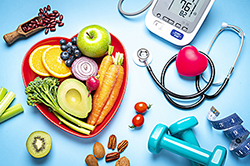 Health is wealth and the First Annual Integrative Health Fair aims to make that more achievable for the Fayetteville community. The fair will take place on Nov. 11, from 11 a.m. to 2 p.m. at the Origins Naturopathic Health and Wellness located at 2529 Raeford Road.
"Integrative health aims for well-coordinated care among different providers and institutions by bringing conventional and complementary approaches together to care for the whole person," Owner and Operator of Integrative MedSpace and Origins Naturopathic Health and Wellness, Kerry Dunn explained. "We aim to treat the whole person so that a person's health span matches as closely as possible with their life span."
The health fair is the first of its kind and will be packed full of health and wellness experts, vendors and food trucks. Orange Theory, Fleet Feet, Pure Barre, Fit Lab, Drip Bar, Middleton Dentistry, Align Chiropractic, Planted Life Coaching, ZR Team Jiu-Jitsu and Radiant Reflections will round out the vendor list for the event. Vendors and providers who share the co-working space will also have tables available with giveaways during the fair. No fair would be complete without food, even a health fair. Household 6 will be providing a healthy meal for attendees and Vagabond Coffee will be in attendance. Children are also welcome at the event and will be able to enjoy an inflatable slide, face painting and a make-and-take granola bar with an informational session on sugar intake.
The fair will feature a raffle for baskets by co-op providers and gift cards amounting to more than $1000. All proceeds from the event will go to Falcon Children's Home, tickets are $10 each. Because the fair will take place on Veterans Day, all Veteran attendees will be treated to free cryotherapy pain treatments. The first 50 attendees will receive a swag bag, that will include, promotional pricing and gift options that can be used in the upcoming Christmas season.
Dunn feels the fair is important for the community.
"The purpose of the Integrative Health Fair is to show our community how many allies they have that are focused on keeping them as healthy as possible. Fayetteville has a lot to offer in the health and wellness community, and as providers, we noticed that the majority of our patients thought they would have to travel out of town to find what they were looking for," Dunn said. " Our hope is to showcase local businesses and Health providers that are offering Integrative or preventative services to improve the health and well-being of our city."
Fair attendees will be able to ask providers questions and schedule future services. For health or wealth providers looking for a space, co-op space is currently available. Contact Kerry Dunn at info@integrativemed.space for more information on the event and co-op.