This Week in Fayetteville
November 15-21, 2023
WEDNESDAY, NOVEMBER 15
SIP & PAINT: CHRISTMAS DOOR HANGERS
PADDY'S IRISH PUB
6:30 p.m.
Gather your friends and family and get everyone into the holiday spirit with Sip & Paint on Paddy's patio. Make your own Christmas door hangers with SipLee Art. $45. Price includes door hanger, paints, and ribbon. Space is limited so please register for this event by visiting the Eventbrite link at https://bit.ly/467sOf9.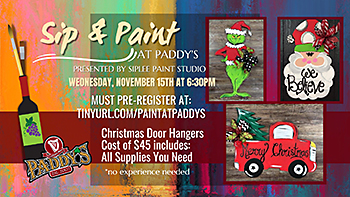 THURSDAY, NOVEMBER 16
FRIENDSGIVING EVENT 2023
THE GLOW UP SALON & BOUTIQUE
6 p.m.
Get a jump start on your holiday shopping by stopping by this great event. A number of small businesses and vendors will be there to help you cross gifts off your must-buy holiday shopping list. Support small businesses with a great night out. Light refreshments will be served. The boutique will be open with 10% off during the event. RSVP for head count by visiting https://bit.ly/473SwCi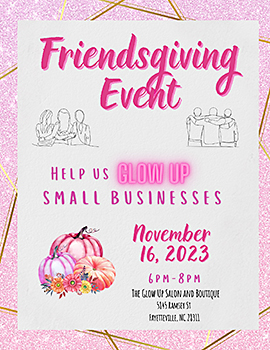 FRIDAY, NOVEMBER `17
PINK FLOYD'S "DARK SIDE OF THE MOON" 50TH ANNIVERSARY SHOW
FSU PLANETARIUM
7 p.m.
Celebrate Pink Floyd's legendary 1973 rock album The Dark Side of the Moon's 50th anniversary by indulging in an awe-inspiring, complete dome visual affair. This exceptional show will be split among the album's 10 tracks, each having its own distinctive theme, progressing chronologically. While some envision a futuristic outlook, others provide a retro nod to Pink Floyd's visual past, all amalgamating into an enthralling time and space experience. Experiencing cutting-edge technology only feasible within a planetarium, the event is exclusively hosted in 100 planetariums worldwide, including Fayetteville. Cost is $10, tickets can be purchased by visiting https://bit.ly/3QrOUmJ
SATURDAY, NOVEMBER 18
VIVALDI'S "THE FOUR SEASONS"
ST. JOHN'S EPISCOPAL CHURCH
7:30 p.m.
Experience the captivating atmosphere of St. John's Episcopal Church and indulge in a captivating musical journey. Commencing with "Legacy of Love," a touching composition by William Grimes that honors his mother, Frances L. Grimes, a prominent member of the FSO, who celebrated her 100th year. Following that, our Concertmaster, Fabián López, will treat you to a remarkable performance of Vivaldi's "The Four Seasons" along with other awe-inspiring musical selections. Tickets range from $5 to $32
And can be purchased at https://bit.ly/3FRJpJ0
SATURDAY, NOVEMBER 18
HAWK MANOR FALCONRY & CHIP GENTRY
CAROLINA HORSE PARK
10 a.m.
Embark on a journey of discovery into the ancient and noble art of falconry, widely regarded as the oldest hunting sport known to man. Immerse yourself in the fascinating world of birds of prey and gain insight into their unique physiology and vital role in the environment. Prepare for an intimate encounter with multiple species of these incredible animals, as they soar and interact with you in close proximity. Revel in the unforgettable experience of holding one of these majestic creatures and capture the moment forever with a cherished photo alongside your raptor companion. Tickets are free to Friends of the Park and $25 for other participants. Visit https://bit.ly/3MErDwH for more information.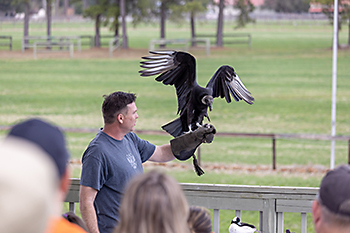 SUNDAY, NOVEMBER 19
CORN HUSK DOLL MAKE & TAKES
ARTS COUNCIL OF FAYETTEVILLE
12 p.m.
As a part of the Arts Council's "Still Here, Still Native" Exhibition, they have organized a free, hands-on experience that provides an opportunity for individuals to learn about, create, and take home their very own corn husk dolls. Simultaneously, they are pleased to present a one-hour lecture and presentation delivered by Dr. Suzanne Cross on the subject of residential schools. This enlightening talk will be held in the Main Gallery from 2 pm to 3 pm. Visit the Facebook event page at https://bit.ly/476YwKS
MONDAY, NOVEMBER 20
PIRATE ADVENTURE STORY TIME
WEST REGIONAL LIBRARY
3:30 p.m.
Ahoy, mateys! Come aboard the library's ship for a thrilling pirate-themed tale time, perfect for all ye young swashbucklers. They will delve into the pages of "Pirates Love Underpants," written by Claire Freedman, uncover hidden treasure, and fashion our very own pirate hats. For ages 6 to11 years. For more information about this program, please call (910) 483-7727 ext. 1481.
TUESDAY, NOVEMBER 21
MORNING YOGA IN THE GARDEN
CAPE FEAR BOTANICAL GARDEN
8 a.m.
Join instructor Ashley Clayton for a serene session of yoga every Tuesday morning from 8:00 AM to 8:45 AM, held indoors or outdoors depending on the weather. This tranquil eastern practice welcomes all adult yogis. Kindly remember to bring your own yoga mat. Yoga is included for members of the garden or can be pre-paid the day prior to class for non-members. $8. For tickets, visit https://bit.ly/47sCKkt