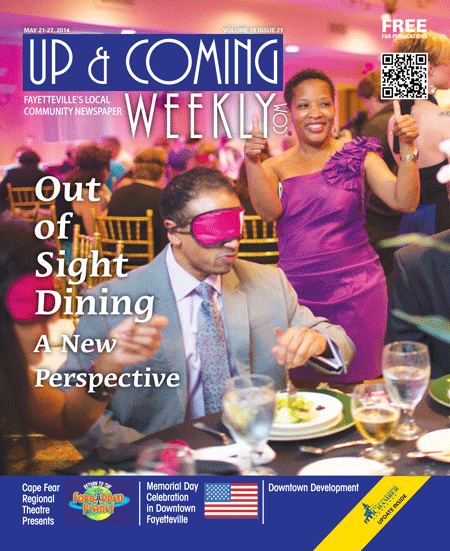 Blindness and visual impairment are conditions that can take away the independence of an individual that has otherwise led a life of self-reliance. The National Federation of the Blind has stated that there are more than 1 million people in the United States that are blind or visually impaired. The statistics break down to show that around 50 percent of the blind or visually impaired are over the age of 65 with around 10 percent being school-aged children.
On Friday, June 6, Cape Fear Eye Associates will host the 3rd Annual Out of Sight Dining Event at the Metropolitan Room in downtown Fayetteville to benefit the programs offered by The Vision Resource Center. "We have hosted the event every year … It is one of the things we do to give back to the center" according to Cory Worrell, who is also the Marketing Director for Cape Fear Eye in addition to her Volunteer Youth Director role.
The Vision Resource Center is an organization working to address the needs of those who have lost their sight. They trace their origins back to 1936 when the organization was founded as the Cumberland County Association of the Blind. The organization also holds the distinction of being one of the first four organizations in the United Way of Cumberland County.
Terri Thomas is the Executive Director of the center. When asked to describe the work they do, she said, "We work with adults and kids from age 4 to our oldest member, who is 86, who are visually impaired or blind. We provide programming to help them socially, to live independently, and with individual wellness."
Thomas also described services they provide that can also benefit caregivers and the family as a whole, "For children, siblings of those that are blind or visually impaired are encouraged to come in and volunteer to gain experience with those that are visually impaired. They can see what it is like for others and gain perspective. We also have a support group that we don't really refer to as a support group. Anything Is Possible is a rap session about what it is like to be visually impaired; they talk and just let us know what their needs are and how we can help. "
According to Thomas, the center currently serves 150 people but is fully capable of helping many more, "The biggest thing is letting people know we are here. We need to get the awareness out about what the Vision Resource Center is, why we are here, and that it is a safe place to come to. We receive referrals from other agencies or by word of mouth … but we have a problem with getting them in. If we can get the funding, we can get them in. We have the programming to meet the needs."
A challenge for the visually impaired that Thomas feels is the most limiting is in transportation. It is also an area she feels the center can grow into, "We would like to be able to do shopping trips and medical trips. A lot of them can't get to Duke or Chapel Hill where most of the specialists are."
Another challenge that Thomas has found lies in the individuals in need themselves, "People who are visually impaired become comfortable in their own surroundings and don't want to get out of their homes. Once we get them in and they try, they like it. We can open a window to activities that they thought they would never be able to do again. You will be surprised at what you can accomplish when you set aside fear and try it anyway. "
Worrell was inspired to take on the role of Youth Program Director for the center after her interaction with a young boy named Michael Macias, "When I met him, he was so soft spoken." She said that after his participation in the programs offered by the center "he gained confidence in himself and inspired me to get involved."
When speaking with Worrell about the youth programs, it is clear that they are her pride and joy. "We started by taking kids out of their comfort zone, we take them surfing, deep sea fishing, rock climbing, horseback riding, flying... they just excelled. It's crazy to see the confidence they have gotten… half the time I forget they are visually impaired; they are just normal kids." When asked how the responses to the programs by the youth compare to the responses of their adult counterparts Worrell said, "The kids adapt so well, they learn instantaneously. They have each other for their support group. I have never had a kid say they wouldn't try something."
Despite the confidence that the young people gain from the programs, Worrell still has concerns about their long-term needs, "I would like for them to have jobs available, college and other resources available." One more immediate area of need that she identified resides in the public school system, "I would love to see them have the resources they need in their schools, so they don't have to be labeled as special needs or anything like that."
The Out of Sight Dining Event is a night of dining, dancing and entertainment. While dinner is served, the guests will all wear blindfolds as a simulation of blindness. Thomas said that, "We would like for you to wear the blindfold for as long as you can whether it is for one second, two minutes or whatever." She described the true purpose of the event as, "not only a way to raise money but to drive awareness of what it is like for this population. "
The musical entertainment for the night will be provided by the blind young man that originally inspired Worrell, Michael Macias. At 15 years old, Macias is already an accomplished pianist and composer having composed 22 original works. He returns once again to the Out of Sight Dining Event to provide the crowd with a sample of his amazing talent. Additional musical entertainment is provided by the band, 80s Unplugged.
Dan Nelson, who is billed as "The Largest Plein Aire Painter in the World" will be in attendance performing his skill in live art entertainment. He plans to paint a portrait of the event as it occurs. Nelson said, "My parents did a good job of exposing me to people with various disabilities … I learned at a very young age to accept and relate to the visually impaired as normal people." Nelson has been known to take the visually impaired on tours of his artwork by guiding them through the piece by touch and description, "I have done that type of thing more than once to try to bring them into the world of visual arts; it is always appreciated."
Thomas asks that the community, "come out and be a vision for someone with visual impairment.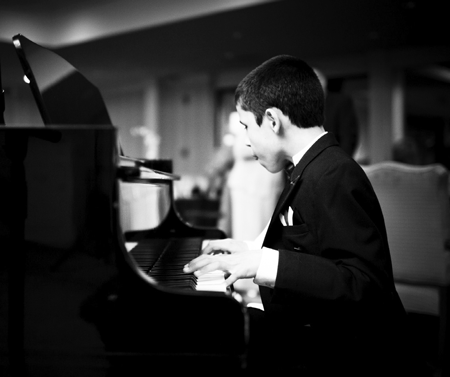 Anytime you do something to help someone with a visual impairment you are helping them visualize a world they cannot see. If you help by volunteering or by donating money you are helping to build that vision. We want to raise $25,000 from this event, that will put us in a very good position to do some of the things we have never been able to do, but the main thing is to get the awareness out."
Tickets for the event are $75 for individuals and $125 for couples. More information is available at www.visionresourcecentercc.org.
Photos: The Visions Resource Center's Out of Sight Dining Event offers an evening of dining, dancing and entertainment, including a performance by 15-year-old Michael Macias (pictured at right).