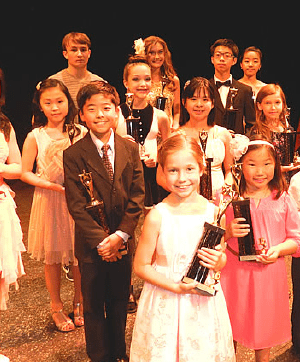 The Fayetteville Kiwanis Club's Annual Talent Night is on June 11 at the Caper Fear Regional Theatre. While it is indeed a night of top-notch talent and entertainment, it is also a good time for the entertainers who work so hard to make the cut. This annual event is much anticipated throughout the year and offers something for the participants as well as the community.
The Kiwanis Club of Fayetteville is a civic organization chartered in 1921, and has been working diligently to better the community ever since. The annual Talent Night is a local tradition that dates back over 60 years.
"Talent at the Talent Showcase is absolutely amazing," said Bill Bowman, chair of Talent Showcase and publisher of Up & Coming Weekly. "Talented students in grades kindergarten through 12th grade perform in several categories for the opportunity to win more than $2,000 in scholarship and prizes." The first place winner in each division will receive a trophy and $100 cash; second place winner in each division will receive a trophy and $50 cash; third place winner in each division will receive a trophy and $25 cash. Four music scholarships will be awarded for voice, strings, piano and band instrument — a $150 value. The 2016 overall winner will receive a trophy and $200 cash.
Even though Talent Night is a night full of fun and family entertainment, it also serves a greater purpose, which is the sponsorship of the Kiwanis Youth Service Projects. Proceeds from Talent Night are used to support local youth in Cumberland County. One such program is Terrific Kids, which is the largest in the country. In this program, members of the committee present more than 31,000 Terrific Kids awards each year. This program promotes self-esteem by encouraging and then rewarding good behavior with bumper stickers, pencils and bicycles. Kiwanians work closely with teachers, who select Terrific Kids twice a month.
The Reading is Fun Program, which is geared towards 4- and 5-year-old preschoolers provides more than 4,000 books to students across the county. Books are distributed to children enrolled in Head Start and Chapter One programs. Kiwanis members read to the children as well as donate books to them. Also The Kiwanis Club of Fayetteville, in conjunction with the Fayetteville Department of Parks and Recreation, sponsors Youth League Baseball at Honeycutt Park and Recreation Center. Kiwanians coach many of the teams, are game announcers and sell, purchase and erect outfield advertising signs.
Auditions for this year's Talent Night are on Saturday, June 4 beginning at 9 a.m. at the Honeycutt Recreation Center.
"Good things last," said Bowman. "This is a great launching point and I'm glad to be able to help foster this type of enrichment. Some of the past winners have gone on to do some exceptional things and have performed on some the world's biggest stages, like Broadway, St. Louis Philharmonic Orchestra, Boston Pops and American Ballad."
For more information about this event and others, check out The Fayetteville Kiwanis website at www.fayettevillekiwanis.org.