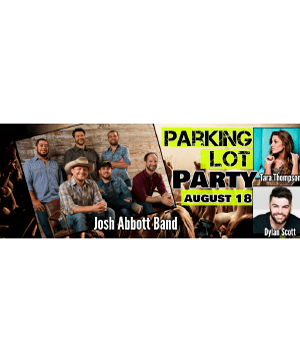 95.7 WKML is Fayetteville's country station and specializes in playing the newest popular country music to keep the long drives and long workdays interesting. WKML has provided Fayetteville with fantastic music for over 30 years. The broadcasting team continues this tradition in new and exciting ways such as the Aug. 18 Parking Lot Party. This event will feature entertainment, food trucks, a beer garden, corn hole and other fun family-friendly games.
One of the groups scheduled to provide entertainment is the Josh Abbot Band. The band members include Josh Abbot, who provides vocals and guitar. Abbot has always loved country music, but his career in music began around 2004 when he started writing songs. He combined his talents with his fraternity brother Austin Davis, who plays the banjo. Preston Wait performs on the fiddle and guitar while Edward Villanueva joins in on the drums. James Hertless lends his skills with the bass guitar and Caleb Keeter on the guitar. The group is known for their emotionally raw performances. Their latest album is recognized as the most emotionally challenging of their works so far. Their music is a dynamic and fresh crowd-pleaser sure to provide emotional connections and fun.
Dylan Scott will also perform at the Parking Lot Party. His self-titled debut album will be released on Aug. 12. He inherited his father's love of country music and is deeply influenced by his roots. His father was a musician that played guitar alongside Freddy Fender, Freddie Hart and other country stars. His father's experiences and stories inspired his career choice. Scott grew up in rural northeastern Louisiana, an area rich in musical history. His experience growing up in Louisiana deeply informs his work. His debut single "Makin' This Boy Go Crazy" has seen a huge amount of success since its release. Just this single song has captured the attention of millions of fans. His honesty resonates for many. He has also been named Spotify's Spotlight on 2016 Country Artists.
Tara Thompson is also slated to perform at the Parking Lot Party. She is a native to Tennessee and in many ways a native to Country music. Her style brings an edge of contemporary style to the traditional genre. Her style is certainly unique from her sound to her "tongue-in-cheek" perspective that is evident in her songwriting. She has been described as feisty and is expected to break all sorts stereotypes as she continues in her career. Her sound has been compared to Loretta Lynn, who is her third cousin. It is clear that this relationship influenced Thompson as she grew up on the country music's back stages in many ways.
The Parking Lot Party takes place on Aug. 18 and begins at 7p.m. Tickets are on sale to the public and cost $10. They can be purchased at http://www.crowncomplexnc.com/events/detail/wkml-parking-lot-party. As the name suggests, the party will take place in the Crown Complex parking lot, which is located at 1960 Coliseum Dr.