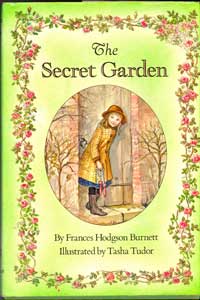 The next show of the season for the Gilbert Theater is The Secret Garden: A Musical, which runs March 24-April 9. This show is originally adapted from a children's book, but it is a performance for all ages. "This story really is the perfect family musical because it reaches both children and adults. The themes of redemption and reconciliation are very prominent as well as love and loss and how we deal with that. I firmly believe that audiences will be able to see a bit of their experience in the story unfolding onstage. My hope is that this production will remind both children and adults to look for the magic in life and how often that magic is found in the people we love," explained Matthew Overturf, the new artistic director of the Gilbert Theater.
The original story was written by Frances Hodgson Burnett and published in 1910. It follows a sickly young girl and her family, whose lives are changed by their experiences with a garden. Though over a century old, the story contains powerful themes that still ring true today. "The themes of eternal love for a spouse and for family, the magic in our everyday lives, and the idea of finding redemption are particularly interesting to me. What is also interesting is that the songs and story speak even in rehearsal," Overturf said. "There is a particular song in the show that brought me to tears during the read through. While it was sung beautifully and that was enough to bring tears to one's eyes, it was the message of the song that spoke to me. It was the perfect song at the perfect time. I thoroughly enjoy this beautiful piece of theater and know audiences will too."
The Secret Garden will be a musical on the Gilbert Theater stage. This adds an extra level of challenge for the performers and excitement for the audience. "Musicals require dynamic acting, interesting costumes and creative sets just like any other play. The unique difficulty is in finding a cast that can sing well and a musical director that knows how to guide a cast to make beautiful music and work with the director to create something beautiful," Overturf said. "We are so very fortunate to have Katherine Anderson as our musical director. Not only is she in the cast, but a wonderful musician who knows how to help a cast discover their potential. She is a wonderful collaborator. "
The Gilbert Theater has a long history of making theater available for younger audience members. Exposure to the arts is important for individual growth and watching shows as a family can serve as a starting point for interesting and sometimes life-changing conversations. The Gilbert Theater also offers a summer camp for when watching shows just isn't enough. "Our summer acting camp is a wonderful opportunity for students ages 6-17 to learn more about theater, hone their acting skills, sing and dance and ultimately have fun while learning. The camp is July 31 to August 12. Students have the option of attending one or two weeks. At the end of the week, there is a special showcase for family and friends to see what their students have been learning during their time at camp," Overturf said.
For more information about the shows at the Gilbert Theater, to purchase tickets, or to learn more about the summer camp, call the Box Office at 910-678-7186, email admin@gilberttheater.com or visit the website www.gilberttheater.com.