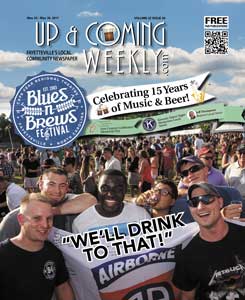 Cape Fear Regional Theatre invites the public to its 15th annual Blues-N-Brews festival on June 3 for a fun-filled Saturday evening at Festival Park. "(This) is going to be hands-down the best way to kick off your summer," said CFRT Development Director Liz Thompson. "It checks all the boxes for a great time — cold beer, hot blues music, great food, awesome people and it's all for a good cause!" Blues-N-Brews is CFRT's big fundraising event each year.
Three talented groups provide the "Blues" for the event. Mark McKinney & Co. play from 5-6:30 p.m., Tullie Brae from 6:45-8:15p.m., and Elliot and the Untouchables from 8:30-10p.m.
Mark McKinney & Co. is an acoustic trio of three local musicians based out of Pembroke. Tullie Brae is a multi-instrumentalist with roots in gospel music. She was a huge hit when she played at Brews-N-Brews two years ago and returns as a part of her current tour. Elliot and the Untouchables specialize in jump and jump-influenced blues, a style of music that combines elements of swing and blues. The band is hugely popular in the southeastern U.S. and last played at this event in 2008.
The "Brews" come from over 40 brewers, including every local brewer our area offers. One $35 ticket gets you a 3-ounce taste-testing glass, which you can use to taste as many of the more than 100 beers available as you want. These include craft beers, ciders and everything in between.
For the first time, a small selection of the most popular beers will be available for purchase in full-sized quantities, for those who find what they like and want to stick to that. For non-beer lovers, Lu Mil Vineyard will have wine and wine slushies available for purchase.
There will also be an abundance of dining options to browse through. Thompson said she's particularly excited for this element. "I love a good food truck, and we've got some of the best coming," she said. "There will be something for everyone — burgers, ribs, BBQ, shrimp, nachos, chicken and waffles, sweets and more."
Blues-N-Brews has grown since its inception 15 years ago and plans to maintain its momentum. Thompson said Festival Park has a maximum capacity of 10,000 people, and this year they're at 3,000 registered to attend. Eventually, she said, CFRT would love to see the whole park filled. But the growth for this event has not only been in numbers. Quality is also increasing each year, as CFRT continues to prove itself to be a treasure our city needs.
This year, CFRT won the Fayetteville's Tourism & Development Authority grant. This enabled staff to expand marketing efforts to include the entire region, not just Cumberland County. CFRT also built a new partnership with Beasley radio station, and partnered with the popular new downtown store Pressed – A Creative Space to design this year's T-shirts.
This pattern of reaching out and making local connections to the benefit of everyone demonstrates the spirit CFRT carries. "We have 22 people who are part of making this event happen," said Thompson. "Many of them are just community members who wanted to get involved. SarahMarie (Stewart) was a volunteer last year and was the food vendor chair. This year she's the co-chair for the whole event!" For those interested in volunteering day-of for two to four-hour shifts, email bnbvolunteers@cfrt.org.
Gates open at 4 p.m. for those who purchase a $75 VIP ticket. Tullie Brae will treat VIP guests to an extra concert in the VIP tent from 4-5 p.m., where guests can also enjoy local beer and food donated by Mash House Brewing Company. Regular tickets cost $35 each, include the unlimited taste-testing glass and free music, and grant admission at 5 p.m. Tickets for $15 are available for those who want to come in and enjoy the night without drinking. To learn more and purchase tickets, visit www.cfrt.org/BluesNBrews.