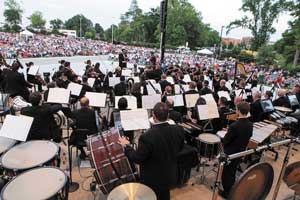 The Fayetteville Symphony Orchestra presents its fifth annual Symphonic Salute to the U. S. Armed Forces on Sunday, May 28, 7:30 p.m. in Festival Park located in downtown Fayetteville.
"This is our fifth year doing this and it is a concert to honor all of our armed forces that have fought for this country. We want to remember them," said Julia Atkins, FSO director of artistic operations and marketing.
"The idea originated from a conversation between the Army Ground Forces Band of Fort Bragg and the Fayetteville Symphony Orchestra, and we thought it would be great to do a collaborative project during the Memorial Day weekend." Atkins added that this is the first year the symphony is doing this on their own because the band is no longer in existence.
The concert will be conducted by Dr. Timothy Altman. He is UNC Pembroke's music department chair, a professor of trumpet and Fayetteville Symphony Orchestra's principal trumpet.
"The music will be a mix of classical and pop and obviously patriotic music as well," said Atkins. "We are going to do several marches and we will open the concert with 'The Star Spangled Banner.'"
Atkins added that the orchestra will play a few John Williams tunes, patriotic songs and an older tune titled "A Salute to the Big Band" for some of the older veterans. "The Armed Forces Salute" will be played, a song tied to the Army, Navy, Air Force, Marines and the Coast Guard. Typically when this song is played everyone who is a part of the armed forces or has a family member in the armed forces will be asked to stand when they hear their service song being played.
Food trucks will be on site from R. Burgers, Charlie's Ice and Babann's Southern Fried Chicken. "The event continues to be a huge success and it draws in 3,000–4,000 people each year," said Atkins. "Please arrive early because parking is a challenge."
The concert is free and open to the public. Bring your blankets and lawn chairs to sit on. Chairs will not be provided. In the case of inclement weather the concert will be moved indoors to Huff Concert Hall at Methodist University.
For more information call (910) 433-4690 or visit www.fayettevillesymphony.org.