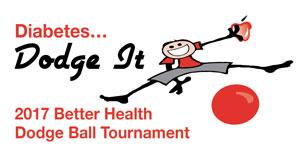 Health care is expensive, and for many people that makes it unattainable. In 1958, registered nurse Ruth Peters saw this problem and founded Better Health. This nonprofit organization helps improve access to health care services for the underserved and low-income residents of Cumberland County.
To raise money for programs, Better Health hosts fundraisers every year. One of the most popular is a dodgeball tournament: Diabetes … Dodge It! This year, the event organizers expect 34 teams, bringing the participant total to 250 players. The tournament takes place Aug. 26.
"With the funding from this event, Better Health is able to enhance its emergency direct aid program for prescriptions and dental care for the uninsured, diabetes self-management clinics, childhood obesity prevention and medical equipment loans to those in need," Executive Director of Better Health Amy Navejas said. "The tournament is a great way for everyone to be involved, whether through playing, volunteering, donating or spectating."
The first Better Health dodgeball tournament took place in 2014. It was wildly successful, and the tournament has grown exponentially since then. "This event has really taken off," Navejas said. "The first event began in 2014 and grossed $5,684. The 2017 tournament is on schedule to gross more than $17,000. This year, we had to cut off individual team registrations before the early-bird deadline. Not only does it help spread the word about our free services, but it gets people active. You don't see many dodgeball tournaments, so this event is unique in asking people to think outside the box when it comes to exercise and activity." She added that the committee behind the first Diabetes … Dodge It! wanted to create a fundraiser that involved physical activity and was different and new for the community.
To make the tournament as smooth and fun as possible, Navejas has some advice. "Sign your waivers in advance," she said. "Due to the volume of attendees, you can expedite entry by printing your waivers in advance and having them ready to turn in Aug. 26. All attendees — both players and spectators — must have waivers on file to gain entry.
'The other advice is to have fun. The event is hilarious to watch and all for a good cause. Make sure you stick around to see Judge Lou Olivera's team face off with Judge Toni King's Sour Patch Kids. It's a showdown you don't want to miss."
The dodgeball tournament is not the only big, fun event that Better Health hosts during the year. November marks Diabetes Awareness Month. "We are going to be hosting a free Diabetes Symposium in early November with breakout sessions on a variety of topics related to diabetes," Navejas said.
Nov. 12 there will be a Quarter Frenzy benefiting Better Health, hosted at the Ramada Inn. "Nov. 18 is our 5th annual Red Apple Run for Diabetes fundraiser," Navejas added. "This run goes through Haymount and features a 10K, 5K and one-miler. We are also marking Diabetes Awareness Month with a new Project Blue November initiative. Last but certainly not least, Better Health will host a fun evening of casino games, beverages, music and good food at our Evening of Prohibition on Feb. 22, 2018, at the Botanical Garden."
For more information on all of the programs that Better Health offers, visit www.betterhealthcc.org.