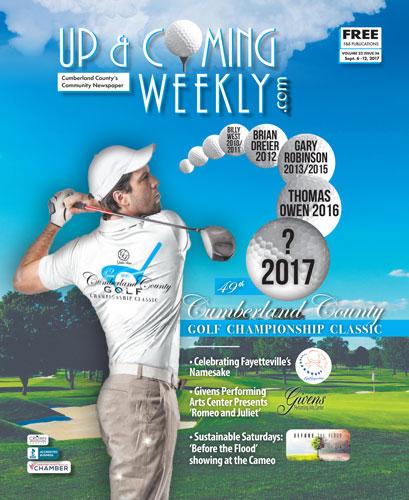 Local golfers of every skill level who share two commonalities — a competitive spirit and a desire to network — have been waiting for September to tee it up. This month marks the 49th anniversary of the area's oldest and most prestigious golf tournament, the Cumberland County Golf Championship Classic. This year the champion will be determined at Gates Four Golf and Country Club on Sept. 15 -17.
The Tournament
The CCGCC is a three-day, 54-hole stroke-play event and offers an incredible value. The entry fee is $165 and grants one practice round at Gates Four and three rounds of play in the tournament division of one's choosing. In addition, each contestant receives five free foursome rounds to be played at Gates Four or three other popular Cumberland County golf courses, Cypress Lakes, Stryker and Baywood. Participants also receive free range balls, a commemorative gift and on-course snacks and beverages provided locally by Healy Wholesale.
Historically, the event has been dominated by male golfers. This year it debuts a new Women's division. DeeDee Jarman, Methodist University's deputy athletic director, is assisting tournament coordinator Bill Bowman in implementing the new division. "DeeDee knows golf and she sees the potential in offering women a competitive tournament venue," Bowman said. "She is extremely talented, and I am excited about working with her." Bowman went on to say that the first year is always a challenge, but he feels with Jarman's leadership it will be extremely popular and also give Cumberland County female golfers something to look forward to each year. Jarman said she will first focus on building local women's participation. "I would like to grow it as large as the men's division, but, first we have to recruit women and get them involved," she said.
The Women's division joins the other four traditional tournament divisions: Open (for all golfers regardless of age or skill level); Senior (ages 50 and up); Super Senior (ages 66 and up); and the Championship division for those seeking the title of Cumberland County's best golfer. Each division will have its own winner, but only those in the Championship division will be in competition for the title. In addition, the top 15 finishers from the Championship division and the top eight finishers in the Senior and Super Senior divisions automatically qualify for the Cumberland County Match Play Tournament at Highland Country Club in the spring. The Match Play has a 20-year history and is the second most prestigious golf tournament in the county.
This year, the CCGCC will implement the five new rules the U.S. Golf Association plans to activate in January 2018. These rules are designed to speed up the game and make it both more competitive and more enjoyable. They include elimination or reduction of "ball moved" penalties, relaxed putting green rules, relaxed rules for penalty areas, relaxed bunker rules, an increased reliance on player integrity, pace-of-play support and a simplified way of taking relief.
The Boose Law Firm is also sponsoring a $10,000 hole-in-one prize on hole #11.
The Pre- and Post-Parties
The Champions Reception and Pairing Party, preceding the tournament, is set for Thursday, Sept. 14, from 6-8 p.m. and is hosted by Gates Four Golf and Country Club and the Richardson Law Firm. The Champions Reception is free for tournament participants and $15 for guests. Here, entrants will renew old friendships and meet and greet past Cumberland County champions like Thomas Owen, Mike Williford, Gary Robinson, Billy West and Brian Dreier.
There will also be local dignitaries in attendance, including city, county and state officials. Rep. Billy Richardson (D - District 44) and Sen. Wesley Meredith (R - District 19) plan to be in attendance to wish the competitors well.
The trophy presentation following the conclusion of the tournament will be around 4:30 p.m. on Sunday, Sept. 17. A short celebratory reception will follow to recognize and congratulate all the winners and to present CCGCC donations to three local organizations: the Kidsville News! Literacy and Education Foundation, Kay Yow Cancer Fund and First Tee of the Sandhills.
The tournament will conclude with a preview of the 50th Anniversary event in 2018 and the awarding of the biggest door prize of the tournament: A three-day, two-night stay in one of the beautiful lakeside cottages at Cape Fear Vineyard & Winery of Elizabethtown. All tournament participants are eligible to win but must be present to win.
The History, Community and Competition
The first CCGCC was played in 1969. PGA Tour professional and local Fayettevillian Chip Beck won it in both 1974 and 1976, before he turned 20 years old. The tournament has a history of providing an experience you just can't find in other local tournaments, giving golfers the chance to prepare for whatever their golfing aspirations may be while ranking themselves against the local competition.
Local businessman Thomas Owen was the 2017 CCGCC champion. Owen said it's the relational aspect of the tournament that has kept him competing over the years. This was Owen's big win. Prior to winning the CCGCC, he qualified for and won the spring Match Play tournament at Highland Country Club three times.
"The level of competition this year is really strong," he said. "The last few years we've had some of Cumberland County's best golfers unable to play. It looks like this year is shaping up to have some of those players come back. And we've got some great local golfers here — probably better than most people realize."
One of those top players to return is Gary Robinson. Robinson is a Fayetteville native, local businessman, and winner of the most CCGCC titles — eight in total, with his first win in 1982. Last year at this time, he was committed to the U.S. Senior Men's Amateur Golf Championship in St. Louis, Missouri. But he'll be back this year. Robinson said he hasn't been playing in as many tournaments this year as he usually does — only five or six compared to his usual 15 — but he's been practicing, and he said he's ready. "I'm excited; I always look forward to playing in this golf tournament," he said. "This is where I live, so I want to make my hometown proud."
Cumberland County District Attorney Billy West is another talented local golfer with six wins at the CCGCC. He's been playing in the tournament since 1991. "I say every year that this is my favorite golf tournament," he said. "I've had the opportunity to play local, statewide and even national tournaments. But this one has a uniqueness unlike any other. People stop you in the grocery store and gas station to congratulate you if you win or play well. As far as competition, this should be the strongest field we've had in years. Even though I'm getting older and have less of a chance to win than I used to, I'm still excited. Thomas Owen is an obvious favorite to win. J.C. McFadyen finished second last year, tied with me. Chris Holland is a former champion who's played well this year. Matt Hudson has been near the top of the group every year."
Robert Wilson Jr. of Cypress Lakes, Jeff Johnson at Stryker and Scooter Buhrman at Gates Four are all local PGA professionals who are familiar with the tournament and have worked on it for years. Buhrman won the champion title in 2007. They all agree that it will be a dogfight in the end and probably come down to about five players battling it out with Owen, Robinson and West as frontrunners. Buhrman of Gates Four added that one wild card player to watch is 16-year-old Spencer Oxendine. "He already has scholarship offers from NC State and other schools," Buhrman said. "And this is his home course. He's young and doesn't have a lot of experience, but he's a very good player, and I think he has a chance."
Johnson of Stryker Golf Course first played in the CCGCC when he was 16, and he agreed with West that Chris Holland and Matt Hudson were players to watch this year. He added, "Even if you don't think you have a chance to win, there are still many reasons to compete. Just because you don't make top 30, it's a badge of honor if you're in the seventh flight one year and you make it your goal to be in the sixth flight the next."
Wilson Jr., Johnson and Buhrman agreed that the tournament is headed in a good direction and that they hope to see it return to the level of participation and camaraderie-driven competition that it saw in its prime. "I remember playing back in high school, and they had so many players we played on two courses," Buhrman said. "I'd like to see it back up to that level."
Register for the Cumberland County Golf Championship Classic by Sept. 13 at 6 p.m at any Cumberland County golf course or by visiting CumberlandCountyGolfClassic.com. For more information, call (910) 425-6667 ext. 224.