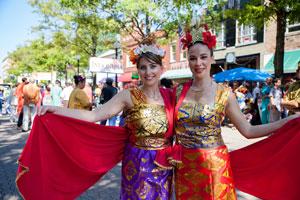 The Arts Council's 39th International Folk Festival with Compare Foods is a three-day festival beginning Friday, Sept. 22. During this festival, community members demonstrate and celebrate their different cultures through food, music, dance and crafts.
This year, the festival kicks off on 4th Friday with a street dance. "Sirius.B is performing," said Mary Kinney, marketing director for the Arts Council of Fayetteville/Cumberland County. "They are actually based out of Asheville, and they have an eclectic sound that they describe as 'absurdist gypsy folk funk punk.' They will perform Friday on a stage in the middle of the street on the corner of Ray Street and Hay Street. They will also perform Saturday ... on the main stage."
Saturday, Sept. 23, kicks off with one of the most popular events every year, the Parade of Nations. The parade begins at 10:30 a.m. and will wind its way through downtown Fayetteville. "This is where our friends and neighbors proceed down Hay Street wearing their cultural clothes, playing their traditional music and dancing," Kinney said. "It is celebrating all of the different cultures, and 30 cultures will be represented."
The parade is expected to last about an hour and a half, which makes it convenient to walk over to Festival Park at noon to enjoy the rest of the International Folk Festival. The park will be filled with performers, food vendors, musicians and arts and craft vendors. "It is every color of the rainbow, every taste you can imagine on a plate and sounds from around the world," Kinney said. "It activates all your senses, and it is truly global. You can really have egg rolls and ox tail on the same plate. It is very authentic. The people cooking, performing, and selling arts and crafts are all people from our own community. They are celebrating their cultures in a way that we can experience."
This year, the festival's hours are longer. On Friday, the festival will be open from 7 p.m. to 9 p.m. Saturday starts at 10:30 a.m. Festival Park opens at noon and extended hours mean it will remain open until 8 p.m. These longer hours allow for a special performance by Mystic India, an internationally acclaimed Bollywood dance spectacular. Mystic India will perform from 6:30-8 p.m. on Saturday on the main stage in Festival Park.
On Sunday, Festival Park will be open to continue the festivities from noon to 6 p.m.
The International Folk Festival is always a rain-or-shine event. This year, 100,000 participants are expected over the weekend. There is no admission cost, but according to the Arts Council, it is a good idea to bring some cash to purchase food, beverages and crafts from the local vendors. There will be an ATM, but it often generates a long line. This is a family-friendly event, so strollers are welcome, but dogs should be left at home. "Just bring yourselves. We will be selling beer, wine, water and coke products. Everything you need will be there," Kinney said.
Find out more at www.theartscouncil.com.