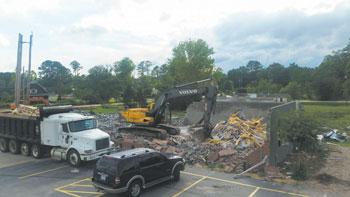 What could possibly say "We are a community" more than rallying behind local heroes? According to the Ladies Auxiliary of Autryville, North Carolina – not much. The group works tirelessly behind the scenes to support the Autryville Fire Department's needs, including fundraising, when necessary. On Saturday, March 10, from 10 a.m. to 4 p.m., the group will host its inaugural Autryville Fire Department Ladies Auxiliary Spring Street Fair to raise funds for what might easily be the department's biggest need to date.
On May 23, 2017, a tornado ripped through the town of Autryville – specifically, the fire station. In one fell swoop, the firefighters lost their building and much of their equipment. Thankfully everyone was safe.
Since that day, the department has operated from a temporary trailer. It's been almost 10 months of slow progression and disappointment. In December 2017, the department learned an unknown man was intentionally scamming locals by going door to door to ask for donations on behalf of the fire department – only this was not of the Autryville Fire Department's doing.
Initially, the fire department hoped to be able to celebrate the anniversary of the tornado in its new building. Unfortunately, with the winter weather, construction was delayed several times.
Recently, the department has seen much progress where the new building will stand on Hotel Street. With its new permanent building estimated to cost roughly $800,000 to complete, raising funds has been the main goal for the Ladies Auxiliary. They've sprung to action to fill in the gaps that insurance won't cover. At the turn of the new year, fire Chief Andrew Hawkins reported that between $10,000-$15,000 had been raised by the department so far. Now, they have a goal of being in the new building for the 2018 Christmas holiday.
The Spring Street Fair will be a family-friendly event with free admission. Local independent companies, such as Limelight Makeup, Norwex household products, Stella and Dot jewelry, Thirty-One Gifts and more will be on hand to share their latest collections with the community. In fact, over 30 vendors will be set up for guests to enjoy.
The Autryville Fire Department is located at 305 North Hotel St. in Autryville. The event is free and open to the public. Proceeds benefit the Autryville Fire Department and Ladies Auxiliary. To participate as a vendor, contact Janel Holmes, Ladies Auxiliary president, at janel. holmes@ncdps.gov to inquire.