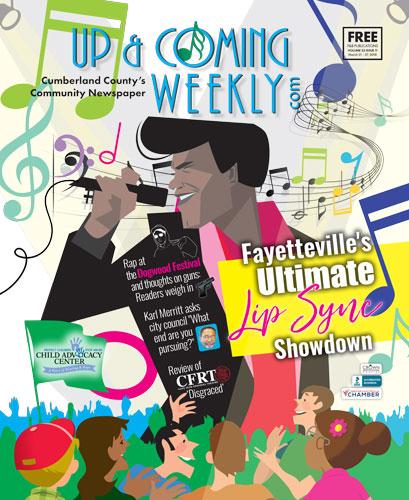 Fayetteville's second annual Ultimate Lip Sync Showdown brings music, fun and frivolity together to raise funds for the Child Advocacy Center. From Michael Jackson to Prince, Tina Turner, Elvis, Bruno Mars and more, guests will enjoy first class entertainment in support of a first-rate cause. The showdown takes place at the Crown Center Ballroom Saturday, March 24.
Julia Adkins is a longtime advocate for the CAC, having chaired the organization's American Girl Fashion Show fundraiser for several years. "We didn't know what to expect last year," said Adkins. Even though it was the first time putting on a lip sync contest, "we had a sold-out crowd and raised more than $40,000 for CAC. It looks like we will have another sold-out crowd."
With 14 acts competing and additional special entertainment lined up, Adkins is excited about the support the event has received from the community. "We have new special entertainment that will open and close the show for us," said Adkins. "We have lots of local celebrities representing so many parts of the community – business, law enforcement, education, health care and more."
Catalina Orrego works at Rainbow Pediatrics. Her group, the P.Y.T.s, is returning to perform a Michael Jackson mashup. "We had a blast last year," Orrego said. "We have always supported CAC. Last year, the contest was such a big hit, we wanted to do it again. We had six in our group last year, and this year we have nine."
She said it was not hard coming up with an act. "We went with Michael Jackson because he is so iconic," she said. "And most people know his music."
The group is going all-out with afros, bell bottoms and fringed vests for the Jackson 5 classic "I Want You Back." For the "Beat It" performance, they plan to wear black and white. "For 'Thriller,' we will be zombies," she added. "I danced when I was a little kid, and we have some former cheerleaders in the act, but thankfully this is a lip sync competition and not karaoke."
While the group looks forward to a night of fun, Orrego noted, "We are excited to support CAC. They are an awesome organization. We hope this raises more than last year and that it sells out this year, too. We are excited to see the other acts, too."
Last year, police Sgt. Peggy Smith entered the showdown with an all-female group of four under the moniker "Ladies of Law Enforcement." This year, the group is called LOL + One. "We added a guy this year," Smith said, explaining the name change.
LOL+One is bringing the '80s to the stage with Cameo's "Word Up," but with a twist. "We have been watching the original video," said Smith. "We will try to bring a police element to it, too. In his version, it starts with a detective … we end up arresting him."
Smith will have another important role in the evening as well. "It will be the anniversary of two little girls' deaths," said Smith. "Last year at the Lip Sync Battle, we were called out to find two little girls. Once the dad told us where their bodies were, we stayed with them until the Hoke County officials could get there."
Smith will perform the opening song in memory of those girls.
"When we put on a fundraiser, it is great to have fun, but we want people to know what we are raising money for," said Adkins. "The exciting part is to see the community come together and raise money and awareness. We are a nonprofit charitable organization. We serve victims of child abuse and their families. Last year we served 696 children, and the numbers continue to rise. We provide a service that is invaluable. When a child comes in after having suffered abuse, the child can come in and tell their story one time, and because it is recorded, they only have to tell their story one time. Prior to the (CAC), they had to tell the story over and over again, and they had to relive it each time."
The CAC is a safe place for children and families. It's a place where people who can advocate for them listen to them and show them respect – where they can tell their experiences once and know the people who can help them will hear it. The center brings together people from organizations like the Cumberland County Dept. of Social Service's Child Protective Services; CC Sheriff's Office; Fayetteville Police Department; Hope Mills Police Department; Spring Lake Police Department; the medical community via Southern Regional Area Health Education Center, Cape Fear Valley Health Systems and Womack Army Medical Center; CC District Attorney's Office; Guardian ad Litem; and Rape Crisis Volunteers of CC to work on behalf of victims 24 hours a day, seven days a week.
While working for children and families is a big job, the center is also proactive in offering classes and workshops to educate the community about child abuse awareness and prevention.
April is National Child Abuse Prevention Month. To raise awareness, the CAC sponsors a pinwheel garden. The pinwheel represents a happy, safe and carefree childhood, one that every child deserves. Initiated by Prevent Child Abuse America, more than a million pinwheels have been displayed nationwide since April 2008 when the campaign began.
There will be a Pinwheel Garden ceremony Thursday, March 29, at noon in honor of the 696 children the center helped last year. It takes place at 222 Rowan St. and is free to attend and open to the public. The pinwheels will be on display through the month of April. Purchase your own pinwheel garden kit at www.childadvocacycenter. com/pinwheels-for-prevention-2/.
"The community's support of Child Abuse Prevention Month has grown each year," said Faith Boehmer, volunteer and prevention coordinator for the CAC. "We expect that this April there will be more than 10,000 pinwheels on display in Cumberland County,"
The Ultimate Lip Sync Showdown is March 24 at the Crown Center Ballroom. Cocktail hour is at 6 p.m., and the show starts at 7 p.m. Tickets cost between $50 and $75 and include hors d'oeuvres and desserts. There will be a cash bar as well. Visit www. crowncomplexnc.com for tickets and information.
You don't have to attend to participate in the Ultimate Lip Sync Showdown. Visit the CAC website at www.childadvocacycenter.com/event/fayettevillesultimate- showdown/ and vote for your favorite act. It costs $5 per vote or $20 for five votes. Proceeds benefit the CAC.