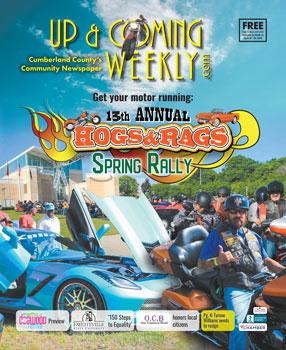 It is time to get your motor running, which means it is time for the Hogs & Rags Spring Rally. This will be the 13th annual ride and is known for being Fayetteville's largest motorcycle and car rally. The ride is Saturday, April 28, at 7:30 a.m., at the Airborne & Special Operations Museum.
The Hogs & Rags Spring Rally is Fayetteville's premier car and motorcycle event. It raises monies for various charities and brings the community a little closer together. Each year, hundreds of volunteers, sponsors and law enforcement officers unite to put on this event. This year, the Hogs & Rags community is raising money for the Special Forces Charitable Trust, which provides help to our brave Special Forces soldiers and their families, the American Cancer Society, and Kidsville News Literacy and Education Foundation.
This ride was originally started by Gardner Altman and Bobby Bleecker of Bleecker Automotive Group. Over the years, the Hogs & Rags Spring Rally has raised hundreds of thousands of dollars for local charities. This event is a win/win event for everyone involved. Although the rally benefits local charities, it is really about our community and the people these organizations touch.
Hogs & Rags has matured over the years. Starting as a small car and motorcycle ride, the rally has become a sanctioned event for the Dogwood Festival. On Saturday morning, the excitement builds around the town, and hundreds of motorcycles and cars descend on the Airborne & Special Operations Museum. Here, participants meet special guests who stop by – to include the Dogwood Queens. This year's Grand Marshal is the Fayetteville Astros General Manger David Lane and his wife Lindsey.
The Hogs & Rags Spring Rally has always been a great community event. No matter what kind of motorcycle you ride or what kind of car, truck or Jeep you have, this event is for you. On this day, everyone just enjoys the ride.
This year, Fort Bragg Harley-Davidson continues to be a prime sponsor. The Fort Bragg Harley- Davidson staff and the riding community help ensure a great event and provide excellent support throughout the day.
This year, participants meet at the Airborne & Special Operations Museum at 7:30 a.m. to sign up and start lining up the vehicles. It's kickstands up promptly at 9 a.m., and the caravan is off on the road to adventure. The Cumberland Country Sherriff's office will provide an escort to the Rock'n-ARanch in White Oak. There, riders will be greeted by a small army of cooks, volunteers and special guests for the best low country breakfast around.
After breakfast, it's back on the road and off to Myrtle Beach with a short stop in Tabor City for a water and a bathroom break. If you like riding without a helmet, this is a great opportunity to tuck it away as the drive crosses the border into South Carolina. This year, the main event will be held at Wild Wings Café at Barefoot Landing in North Myrtle Beach. Here, there will be a 50/50 raffle, gun raffles and door prizes.
The event organizers will auction a beautiful handmade Hogs & Rags quilt made by Peggy Stanley. Murf's Pawn of Whiteville has donated a Smith and Wesson, M&P M2.0 9mm pistol that will be auctioned as well.
The event officially concludes at Wild Wing Café at Barefoot Landing. There, many people will stay and go shop or enjoy Myrtle Beach. Some people come back to Fayetteville in time to make the Dogwood Festival concert at Festival Park. This year's performers are the Chris Cox Band and country star Rodney Atkins.
Hogs & Rags will host its famous pre-registration party at Mac's Speed Shop Friday, April 27, from at 6:30-9 p.m. Mac's will host live music by Lotus Sun. Guests are in for a treat and for a great night of music and dancing. If you don't ride, you can still support this organization by purchasing raffle tickets and donations. Admission is free.
The Kidsville News Literacy and Education Foundation's mission is to improve literacy, education and character development among America's youth by providing support for various early learning and literacy-based initiatives nationwide. The Kidsville News Literacy & Education Foundation approves grants to qualified projects and institutions that endeavor to instill strong reading and education skills and good, solid character development traits in America's youth. The Kidsville News Literacy and Education Foundation works hard to bring the best out in each student. For more information on the Kidsville Literacy and Education Foundation, visit www.kidsvillenewsfoundation.com.
Fort Bragg is the home of the Special Forces. Special Forces, which is known as the "Green Berets," have been part of the Fayetteville community since 1952. In 1961, President John F. Kennedy authorized a small, unconventional unit here to wear the Green Beret because he believed their unique mission deserved special recognition. In 1962, Kennedy called the green beret "a symbol of excellence, a badge of courage, a mark of distinction in the fight for freedom."
The Special Forces are the unsung heroes of the past and the diplomatic warriors in today's war on terror. Masters in conducting training and operations with indigenous forces, they conduct the majority of special operations counterinsurgency missions.
In the war on terror, Green Berets have endured the highest casualty rate of all Special Operations Forces. In addition to the commitments in Afghanistan and Iraq,
Special Forces are deployed all over the world. These men were deployed in over 70 different countries. Active duty and veteran Green Berets, along with the Special Forces National Guard and all their families, deserve the highest level of support and service. Working with the Special Forces Association, the Special Forces Charitable Trust provides a nationwide network of volunteers, as well as meaningful and sustainable programs and services to support Green Berets and their Families – past, present and future. For more information, visit www.specialforcescharitabletrust.org.
The American Cancer Society supports researchers and health professionals as they explore all avenues to stop cancer. The American Cancer Society has programs and services to help manage cancer treatment and recovery and find the emotional support patients need. Each year, the ladies from the local American Cancer Society will be up early preparing a wonderful breakfast for the rally. The cost of the Hogs & Rags ride is $50 per person, which pays for the breakfast, water break, the meal at Wild Wings Café and the 2018 Hogs & Rags T-shirt.
This ride is for all brands of motorcycles and vehicles. Although rain is always a possibility, riders can still jump in their cars and come on out for a great day.
Last year was the biggest and most successful event to date. Due to the size of the event, the ride will be limited to 400 participants. Visit www.hogsandrags.org to preregister. Check out the Facebook page at Hogs & Rags of Fayetteville for more information, or call Mary at 910-988-3510.