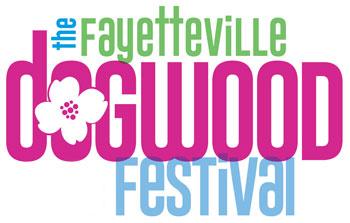 Every spring for the past three-anda-half decades, the Fayetteville Dogwood Festival has brought the community together to celebrate the diversity and uniqueness that make this community so special. This year, the festival won four awards from the North Carolina Association of Festivals and Events and was named the 2018 event of the year in the Southeast by the Southeast Festivals and Events Association. Carrie King, Fayetteville Dogwood Festival Executive Director said of the award, "We are beyond thrilled to bring home this prestigious award for our community. The spirit of the Fayetteville community made the Dogwood Festival a natural choice for the award. We could not do what we do without the continued support of our sponsors, volunteers and patrons."
This year's event embodies the many reasons the festival is a winner both regionally and statewide. Along with the beloved favorites, there are some new events and programming changes this year, including a new event to kick things off. It's called Cork & Fork and it takes place Wednesday, April 25, from 6-9 p.m. at Festival Park.
Cork & Fork is an evening of chef-inspired gourmet creations paired with elegant complimentary wines. It is a fundraiser for KidsPeace. Tickets are $40 each and are available online at www.faydogwoodfestival.com.
Additionally, the Dogwood Festival is taking its traditional three-day format and expanding it to a four-day weekend, with the official festivities kicking off Thursday and continuing through the weekend to include extended hours Sunday.
The festival hours are: Thursday, April 26, from 5-10 p.m.; Friday, April 27, from 5-11 p.m.; Saturday, April 28, from noon-11 p.m.; and Sunday, April 29, from noon-9 p.m.
The Thursday addition to the Dogwood Festival will feature a band and food vendors exclusively. The Sherman Neckties open Thursday at 6 p.m. on the Compare Foods Stage. From 8-9:45 p.m., Jackyl will perform.
No festival is complete without the midway carnival, which will run Friday through Sunday. Other events will run throughout the weekend as well, including the BMX Shows, Airborne Aerials and street performances, the activity zone, and the street fair.
Boom and Bloom and the opening ceremony kick-off party take place Friday, April 27. The E.E Smith Marching Band opens the festivities at 5:30 p.m. in Festival Park. The evening concludes with a fireworks display between 10 and 11 p.m.
The festival's music stages are filled with quality performers all weekend, covering several genres and including local as well as regionally and nationally recognized acts.
Live Music
Compare Foods Stage
Compare Foods Stage is located in Festival Park and features a variety of crowd-pleasing performances, from hip-hop to country to cover bands.
• Friday, April 27
5:30 p.m. Opening ceremony
6 p.m. Soul Decree
8 p.m. Young MC
9 p.m. Coolio
10 p.m. Rob Base
• Saturday, April 28
1 p.m. Avner Clark
3 p.m. Big Slim
5 p.m. Will McBride Group
7 p.m. Chris Cox Band
9 p.m.-10:45 p.m. Rodney Atkins
• Sunday, April 29
1 p.m. Matrix
2:30 p.m. Cool Heat
4:30 p.m. Rivermist
7-8:45 p.m. Zoso – The Ultimate Led Zeppelin Experience
With Zoso – The Ultimate Led Zeppelin Experience closing the festival, it's fitting that the band brings home one of Fayetteville's own – Bevan Davies. He's toured with a variety of musicians, including Danzig and Engelbert Humperdinck. But when he got the call be the drummer for Zoso, it was a nobrainer. "These guys are amazing," said Davies.
While his career keeps him from getting back to Fayetteville often, he is thrilled to be playing his home turf. "I love coming back. I never hated on Fayetteville the way a lot of people did. In fact, wherever I've played, I've always been very proudly from Fayetteville."
Cape Fear Music Center's Street Fair Stage
Cape Fear Music Center strives to develop the arts scene in downtown Fayetteville by programming the Street Fair Stage. Acts include local musicians and musical organizations, as well as budding CFMC students. Visitors will find exclusively local acts on the Cape Fear Music stage, which is located on Green Street.
• Saturday, April 28
12 p.m. Big Daddy Drive
1:30 p.m. UNC-Pembroke Jazz Ensemble II
2:30 p.m. The Mother Notes
4 p.m. Reckless Abandon
5:30 p.m. Affinity
7 p.m. Black River Township
• Sunday, April 29
12 p.m. 9th Annual CFMC I-Rock Student Showcase
4:30 p.m. Chemical Lizards
Sanctioned Events
"Sense & Sensibility" at Cape Fear Regional Theatre
Cape Fear Regional Theatre's "Sense & Sensibility" is based on Kate Hamill's fresh adaptation of Jane Austen's classic 18th-century novel. Follow the misadventures of the three Dashwood sisters in their quests for love and dignity in a show that, according to CFRT Marketing Director Leslie Flom, blends "traditional Austen and an '80s John Hughes film."
"Jane Eyre" runs at CFRT, 1209 Hay St., April 25-29. Showtimes are at 7:30 p.m. April 25-28 and at 6:30 p.m. April 29. There is also a 2 p.m. showing April 28 and 29.
Tickets cost $15-$25 and can be purchased by calling 910-323-4233 or by visiting www.cfrt.org/ project/sense-and-sensibility.
"Jane Eyre" presented by Sweet Tea Shakespeare
Sweet Tea Shakespeare is an unconventional performance group that focuses on the audience's holistic experience. April 26-29, arrive at the 1897 Poe House at the Museum of the Cape Fear at 206 Broadford Ave. at 6:45 p.m. for live music before the show. Barbecue, beer, wine and sweet tea will also be available for purchase.
"Jane Eyre" is a lush, gothic, intriguing romance based on Charlotte Brontë's 19th-century novel. The show will also run May 3-6.
Tickets cost $8-$20; discounts are available for those who purchase in advance, along with students, senior citizens, military members and children. To reserve your seats, visit sweetteashakespeare.com or call 910-420-4383.
Capitol Encore Academy Exhibition
The Capital Encore Academy, located at 126 Hay St. in downtown Fayetteville, is a free, nonprofit, public charter school offering integrated arts and core academic learning.
Come check it out during the festival; the academy will be open that Friday from 6-10 p.m., Saturday from noon-10 p.m., and Sunday from noon-6 p.m. There will be art stations for kids to create their own art and performances by the academy's students. For more information, contact Trish Brownless at tbrownless@capitolencoreacademy.org or call 910-849-0888 ext. 115.
Fayetteville-Cumberland Crimestoppers Barbecue
Fayetteville-Cumberland Crimestoppers will be set up in the Harris Teeter parking lot in Highland Centre off Raeford Road serving tasty Southern pork barbecue plates for $8 each. The money is used to offer rewards to anyone wishing to report anonymous information regarding any crime.
Crimestoppers works with the police departments of Fayetteville, Spring Lake and Hope Mills, and the Cumberland County Office of the Sheriff. Since its inception, it has played a part in more than 4,000 arrests and 5,300 felony charges. It has helped recover more than $4,875,000 in property and $1,893,000 in narcotics. Crimestoppers has issued more than $316,000 in rewards and helped solve 2,477 cases, 67 of which were homicides.
Call 910-483-8477 to report any information regarding a crime and remain anonymous.
The barbecue runs 11 a.m. to 7 p.m. Friday, April 27. Call 910-624-6922 with any questions.
Partnership for Children's KidStuff
KidStuff is an annual favorite at the Dogwood Festival and will be set up on Person Street this year. It is a free area for infants, toddlers and preschoolers that features: PNC Bank's Grow Up Great Mobile Learning Adventure; Kids in Sports obstacle course; buybuy Baby nursing and changing stations; characters to meet and greet; hands-on activities; art projects; age-appropriate activities for toddlers; information about local resources; and applications for the North Carolina Pre-K Program.
KidStuff will be open to the public Saturday, April 28, from noon-6 p.m. and Sunday, April 29, from 1-6 p.m.
Hogs & Rags Spring Rally
Calling all bikers and vehicle enthusiasts: Saturday, April 28, registration begins at 7:30 a.m. at the Airborne & Special Operations Museum for Fayetteville's premier car and motorcycle rally. Kickstands up at 9 a.m. sharp, then riders will be off on a breezy, police-escorted journey with a stop and Rocking A Ranch for breakfast. The ride concludes at Wild Wings Cafe in North Myrtle Beach. There will be a 50/50 raffle, gun raffles and door prizes.
You can also party it up at the famous Hogs & Rags pre-registration party at Mac's Speed Shop on Friday, April 27, from 6:30-9 p.m. Visit the website at www.hogsandrags.org to learn more about this 13-years-and-running event.
As much as the Dogwood Festival is about entertaining the community and bringing us together, the organization also gives back by supporting other local nonprofits. At the 2017 spring event, the Dogwood Festival donated a portion of its proceeds to Vision Resource Center, E.E. Smith High School Marching Band, and local active duty service organizations JSOC Top 3, Air Force Top 3 and Pope Special Activities Committee. The Dogwood Festival donated over $132,000 in 12 years and $13,860 in 2017 to nonprofit partners.