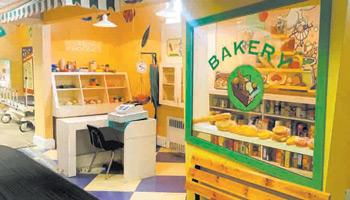 Children can drop as many as two reading levels during the summer months. Even though school is out, there is plenty to do to keep young minds engaged. One option is to read at least 30 minutes each day. Another is to explore learning opportunities in other places.
Fascinate-U Children's Museum has hands-on, child-friendly exhibits that will keep kids' active minds busy and let young imaginations run wild during these hot summer days.
"We are open every day except Monday and all of our exhibits are hands-on, so when you come to visit, the children get to play and pretend to be a grown-up," said Susan Daniels, executive director of Fascinate-U. "We have a grocery store, costume stage, a news desk, a doctor's office, school room, army fort, post office, farm, voting booth and restaurant exhibit." Daniels added that the children get to pretend to be employees through role-playing, manipulation and interacting with each other.
The museum also hosts several programs and events, including partnering with other child-centered summer camps in the community. "We do offer programs for visiting groups, and some of those summer camps come to us and we do science programs with the children," said Daniels. "It is mainly slime and weird pets."
As part of its regular programming, the museum has recurring events for families that can't get to the museum during the week. "The second Saturday of each month we have a craft activity between 11 a.m. and 1 p.m.," said Daniels. "On the third Saturday of each month, between 11 a.m. and 1 p.m., we have a science activity."
Daniels added that these events are free for participants with a paid membership. A family membership is $50 and includes admission for the whole family for the entire year.
"We invite the family to come out and join us for some interactive fun and engagement," said Daniels. During 4th Friday events, the museum offers free crafts for children each month.
Another way Fascinate-U reaches out to the community is through partnerships with other community organizations like the Cumberland County Public Library and Information Center for story times. The museum also hosts summer camps and is available to host birthday parties.
Admission fee is $4 for children and $3 for adults. Admission is free Wednesdays from 1-7 p.m., and donations are accepted. For more information, call 910-829-9171 or visit www.fascinate-u.com.