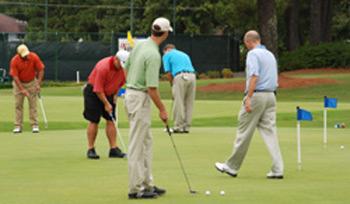 For 25 years, operating out of downtown Fayetteville, The CARE Clinic has provided free basic medical, dental and pharmacy services to uninsured, lowincome adults. The nonprofit facility is run entirely by volunteers, from physicians, nurses, dentists and pharmacists to board members and receptionists. According to Development & Marketing Director Cynthia Deere, it takes about $44,000 a month just to keep the doors open. One way The CARE Clinic meets this financial need is with its yearly Golf Charity tournament. The 24th Annual CARE Clinic Golf Charity is set for Thursday, Sept. 20, at Gates Four Golf & Country Club.
"What drives us to do all this, of course, is our patients," said local attorney Greg Whitley, a longtime CARE Clinic board member who is chairing this year's tournament.
Whitley said participants will notice a few changes this year. First, he said, the tournament will change from being a Captain's Choice, the usual format for charity golf tournaments, to a Texas Scramble. Whitley explained that this will give individual golfers more opportunity to play their own game, no matter their skill level.
Second, every player will receive a player pack with OGIO golf accessories worth a total of $195.
The unique Sponsor a Solider option is back, too. Those who wish to support the clinic while blessing a service member can pay for a Fort Bragg soldier's entry.
Day-of registration starts at 9:30 a.m. Thursday, Sept. 20, with a shotgun start at 11 a.m. Dinner and awards will follow the conclusion of the tournament at the Gates Four pavilion. There will be a raffle, prize presentations to the winning teams and time to socialize.
This mingling, Deere said, can have long-reaching positive effects.
"We had one sponsored soldier golfer last year who won the 50/50 raffle," she said. "He didn't know anything about The CARE Clinic, so he learned a little bit about us that day. Then, ironically, he's in Fayetteville Young Professionals, and I was having them come (to the clinic) the following week. And so he came, and he heard all about us.
"He never cashed his 50/50 raffle check, which was several hundred dollars; he gave it back to the clinic because he'd learned about what we do.
"He was getting out of the military, starting his own small business. He had an employee who got sick and did not have insurance, so he told her to contact The CARE Clinic, and she did. She got the medication she needed, she stayed well, and she was able to keep working for him and not quit her job. And this all came from him playing in the golf tournament."
Deere said this is just one of many similar stories that point to the value of charity events like this one.
"I think one of the biggest misconceptions is that we are assisting lazy people that expect everything for free," she said. "That is not who our patients are. Our patients are hard-working people who either own a small business or work for a small business and don't have insurance, or they are single, raising kids and can't afford health insurance."
For 2018 CARE Clinic Golf Charity registration and sponsorship information, or to learn about other volunteer opportunities, call 910-485-0555 or visit www.thecareclinic.org. The CARE Clinic is located at 239 Robeson St.
CARE Clinic patient information:
To be eligible for The CARE Clinic's services, you must be 18 years or older; have no insurance, including Medicaid; meet an income requirement; and display proof of household income and a valid, North Carolina DMV-issued picture ID card or driver's license showing your current address.
Call 910-485-0555 to make an appointment. Appointments are made only by phone; no walk-ins. Medical appointments can be made Monday-Thursday, 9 a.m. to 2 p.m. Dental appointments can be made Friday from 9 a.m. to noon for the following week.
The clinic serves patients each Tuesday and Thursday and the second and fourth Wednesday of each month from 5:30-8:30 p.m. Dental clinics are every Tuesday and the second and fourth Wednesday of each month. Appointments are made on a space-available basis.