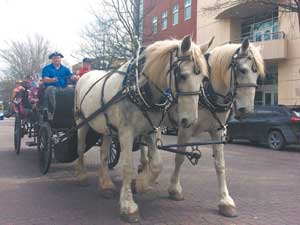 Explore our city's rich history from a new angle – in a horse-drawn carriage. The second Saturday of each month, Cool Spring Downtown District offers a 45-minute carriage ride through downtown Fayetteville. The next historic tour is Sept. 15.
"This is the third year we've done the tours, and it is going very well," said Hank Parfitt, carriage tour organizer. "(The carriage) holds 8-10 people and is covered with a canopy."
The tours include several stops. "We cover the history going back to early 1700s through the beginning of the 20th century," Parfitt said. "There were a lot of changes after we were connected by railroad to other cities in North Carolina in 1890. There are a lot of old buildings in downtown that date to that era. We talk about why Fayetteville was important in the Revolutionary War, even though there were no battles here."
In addition to providing a unique avenue to learn about Fayetteville's past, Parfitt said, the rides are fun because they typically have a mix of locals and out-of-town visitors.
"Over a third of the people who take the tour are from out of town," he said. "Of that number, two-thirds are from out of state. Last time, we had a lady from California here for her daughter's wedding and a couple from Mass who retired in Aberdeen.
"It is one of the best things I have seen that we have to showcase Fayetteville to the outside world. We were sold out last Saturday by 11 a.m. and we had to turn a family away."
Parfitt noted that the carriage owners are always mindful of the health and well-being of the horses. "The horses are draft horses; they are bred to pull things. These horses are happiest when they are pulling and can go all day long. The owners are very meticulous about caring for them. It is why we run in the mornings in the summer, including in September – to keep them from the heat."
In September, tours take place from 9 a.m. to 1 p.m. Tours depart from the Cool Spring Downtown District office at 222 Hay St. across from the Cameo Art House Theatre. Tickets are $25 for adults or $20 with a military ID and $15 for children under 12. When booking a large group tour for an organization, school or church, ask about special discounts.
Tickets are available at 222 Hay St. on the day of the event, but advance reservations are recommended. Call 910-678-8899 to purchase tickets or to learn more about the rides.