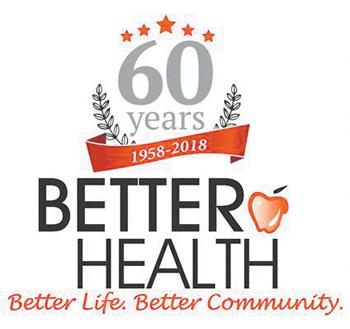 On Saturday, Nov. 17, Better Health will host its 6th annual Red Apple Run for diabetes in downtown Fayetteville. It's a fun event for the entire family whether they are running or enjoying what the vendors have to offer. The Red Apple Run aids Better Health in its mission to help those in the community who are uninsured. It also supports Better Health's diabetes program, which was started in the 1970s. The program provides clients with one-on-one meetings with a nurse and dietitian, offers participation in cooking demonstrations, access to diabetic supplies and more.
Over the last six years, the Red Apple Run has had a turnout of about 300-400 participants of all ages. The run offers a 5K course, 10K course and 1-mile fun run that all wind through Historic Haymount.
Better Health Executive Director Amy Navejas said, "Last year, 5K participant times ranged from our first-place winner Mack Brooks' 18-minute pace to an hour. Participants in the 10K ranged from Mary Tramazzo's incredible 36-minute completion time to an hour and a half."
Children can participate, too. In fact, children from one of Better Health's programs will join the event with the Honeycutt Elementary School's running team. Both groups of children will participate in the 5K. The 5K and the 10K races will be timed, while the 1-mile race will be just for fun.
There will be multiple sponsors for the Red Apple Run as well as vendors like Master Exterminators, which will provide information about its services, and New Deli, which will provide delicious snacks for the finishers.
The top three overall male and female winners in each age group of the 5K and the 10K runs will receive awards.
Better Health was started 60 years ago as a nonprofit to provide emergency medicine to those without insurance. Over the years, it has evolved and now offers multiple services and programs like emergency dental extractions, vision screenings, a diabetes program, a childhood obesity program and a new Fayetteville Fit program meant to support obese children and help their families start healthier lifestyles.
Navejas said, "Our new Fayetteville Fit program requires funding to help these children and their families become active and create healthier lifestyles. Another recent need would be for hurricane victims who are unable to afford emergency medications or dental care. Without the funds, we can't offer these services."
Navejas added, "Diabetes has many facets, and, if not well controlled, can contribute to or lead to many other issues occurring in the body."
Diabetes is said to be the leading cause of blindness for those between the ages of 20-74 years old. The disease is also the main cause for nontraumatic foot amputation, affecting 73,000 people per year in the United States. The best way to stay healthy and avoid diabetes includes getting vision and foot screenings, attending regular checkups, eating healthy and exercising regularly.
Better Health is partnering with Cape Fear Eye Associatesto offer free quarterly vision screenings. The clinic also provides quarterly foot screenings with the help of podiatrist, Dr. Dan Laut.
The Red Apple Run helps secure funding for Better Health and its programs, allowing it to continue to provide for the community. Better Health uses these funds to serve more than 5,000 clients every year, creating a tremendous impact on the community.
Register for the run online at https://its-go-time. com/red-apple-run-for-diabetes or in person at the Packet Pickup, 1422 Bragg Blvd., on Nov. 16 from 4-6 p.m., or the day of the race at 7:30 a.m. behind the Medical Arts Building. The 10K starts at 8:30 a.m.; the 5K starts at 8:45 a.m.; and the 1-mile fun run starts at 8:50 a.m.
Contact the Better Health Clinic at 910-483-7534 or visit https://its-go-time.com/red-apple-run-fordiabetes for more information.