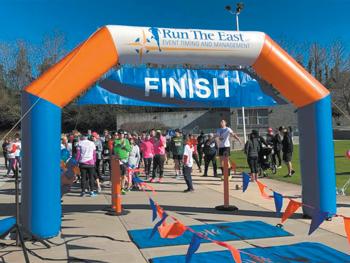 Saturday, March 9, His Outreach Worldwide sponsors the third annual American Warrior 5K Walk and Run. This event, for which the streets of downtown Fayetteville are transformed into a USA Track and Field certified race route, benefits His Bread of Life, a local Christian nonprofit food bank. The race's starting point and registration area is at Festival Park.
Lynne O'Quinn, founder and CEO of HOW, said most of the race's elements from its first two years remain unchanged — with one exciting update. This year, '80s Unplugged, a local band, will play live music as participants register and warm up in the morning and as they wait for everyone to finish the 5K.
As in years past, free food will be distributed to runners after the race, this year provided by Baldinos Giant Jersey Subs. A variety of entertainment will be available pre- and post-race, including a free bouncy house for children alongside vendors selling wares.
O'Quinn stressed that this is a family-friendly event and people and families of all ages are invited to participate.
At the same time, the American Warrior 5K holds the distinction of being a certified, timed race. "Whatever (runners) win has more value because it's a USA Track and Field certified race," O'Quinn said. "We've had a lot of people say they enjoy this course, too, because it winds through downtown. It makes it very interesting for runners, and then for the walkers it's a pretty walk."
First, second and third place will be awarded to runners in eight age divisions, as well as to the top finishers overall.
Each runner will receive a complementary bag with goodies, including a T-shirt and coupons to enjoy around town, like at Sweet Frog and Pure Barre – Fayetteville. Runners who register before Feb. 27 are guaranteed the correct T-shirt size.
His Bread of Life, the nonprofit benefiting from the race's proceeds, is headed by director Brian Armstrong. It is one of seven ministries under HOW and is located at 204 S. Reilly Rd., in a home that was donated. It is open Wednesday mornings from 8:30 a.m.-noon.
At this food bank, anyone in need is invited to come in and "shop" (free of charge) for what they need from a variety of shelves, with a cap on how many items can be taken from each shelf. "We have refreshments, we give them bags; they're able to get what their family really needs at that time,"
O'Quinn said. "It's like their neighborhood grocery market. … They love coming in, and they talk to each other." O'Quinn described the population His Bread of Life serves as being like family to her. "We pretty much take these people at their word, and we've never felt like we've been swindled or scammed," she said. "All these people are the nicest, sweetest people, and they're just down on their luck."
She said the food bank serves people like the homeless (including homeless veterans), people referred through social services, recovering alcoholics and drug addicts, people who lose their jobs due to medical issues and more.
Pre-register online for $25 ($20 if military) at www.runtheeast.com/ races or at the HOW office, 2770 Breezewood Ave. Day-of registration on March 9 opens at 8 a.m. and costs $30. The race begins at 9:30 a.m. Participants are encouraged to wear red, white and blue.
To learn more about HOW and His Bread of Life, visit http://hisoutreachworldwide.org/about or call O'Quinn at 910-476-7975 or Heather Hartley at 910-874-3676.