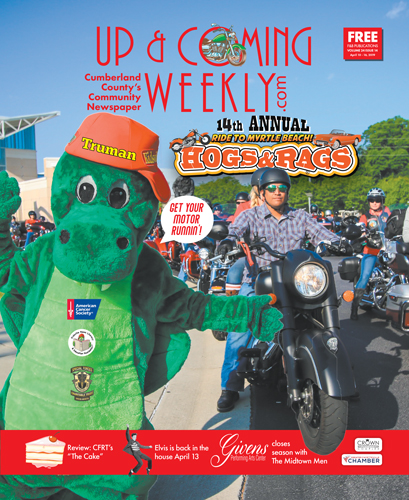 Saturday, April 27, the Hogs and Rags team is turning up the heat on what is shaping up to be their best event yet. This year will be the 14th year of cars and motorcycles coming together for a great day of fun. Spicing things up this year, there will be a skydiving demonstration by the Special Forces Association Parachute Team.
People often ask, "What is Hogs and Rags?" Chances are, you will never get the same answer twice. For some people, it is the largest car and motorcycle rally in the state. For others, it is a great fundraiser. For some, it is a good start to the Fayetteville Dogwood Festival.
For the charities that benefit from the event's donations, it is a blessing. For the volunteers, it is all part of giving back to the community. No matter how people get involved, one thing everyone does say is that Hog and Rags is a great event and a lot of fun.
At 7:30 a.m. on the morning of Hogs and Rags, downtown Fayetteville will be humming with cars and motorcycles — all heading to the starting point at the Airborne & Special Operations Museum. Here, there is an atmosphere of excitement and energy as anticipation builds for a fun day on the road.
Bobby Bleecker of Bleecker Automotive Group and a small army of volunteers will be signing up riders, handing out hundreds of Hogs and Rags T-shirts, selling raffle tickets, offering up coffee and doughnuts, and lining up hundreds of cars and motorcycles for the drive to Myrtle Beach, South Carolina.
The community support is incredible, with appearances by the Fayetteville Dogwood Queens, community leaders and surprise guests. This year's grand marshal is David Lane, general manager of the Fayetteville Woodpeckers baseball team, and his wife, Lindsey.
Fort Bragg Harley-Davidson is again the Hogs and Rags premier sponsor. Tom Evcic of Fort Bragg Harley-Davidson will be this year's ride captain.
Before things kick off, Evcic will give a motorcycle safety briefing, and Hogs and Rags committee member David Ross will give a car safety brief. Once the engines roar, the Cumberland County Sheriff's Office will lead the convoy.
It's a fast-paced day like no other. Before long, the convoy will be rolling up to Rock'n-A-Ranch, where Hogs and Rags co-founder Gardner Altman and his team of volunteers will greet the riders and serve the best "low-country-breakfast" in the Carolinas.
After a great breakfast, the Bladen County Sheriff's Office will have participants off and running toward Columbus County, where the sheriff's office will take riders on to the South Carolina border for a quick stop and water break.
For the motorcyclist who enjoys riding without a helmet, there will be an opportunity to take them off here. Then, the Horry County Sheriff's Office will provide an escort for the final leg to Wild Wing Café at Barefoot Landing in Myrtle Beach, South Carolina, for food, fellowship and fun.
During the evening meal, the Hogs and Rags organizers will keep the fun rolling with raffles and other activities — to include gun raffles, a 50/50 cash raffle and some exciting auction items.
This year, the Hogs and Rags community will raise money for the Special Forces Charitable Trust, which provides support to our brave Special Cancer Society, which provides scientific, financial and emotional support to those touched by cancer; and the Kidsville News Literacy and Education Foundation, which donates reading and educational material to every student from kindergarten to sixth grade in Cumberland County.
The Hogs and Rags community will hold its popular preregistration party in Fayetteville at Mac's Speed Shop, 482 N McPherson Church Rd., on Friday, April 26, from 6:30-9 p.m. Register at Mac's and enjoy a night of music and dancing. If you cannot make the Saturday ride, come enjoy the party. You can still support this organization by purchasing raffle tickets and making donations. Admission to the party is free.
This ride is for all brands of motorcycles and vehicles, and it's happening rain or shine. Although rain is always a possibility, you can still jump in your car, come on out and enjoy the day.
Last year was the biggest and most successful event to date. Due to the size of the event, this year's ride will be limited to 400 participants — so preregistration is encouraged.
Saturday, April 27, the event starts at the Airborne & Special Operations Museum at 7:30 a.m. As part of the Fayetteville Dogwood Festival, the excitement builds from there. Show up with a full tank of gas and dress appropriately for the weather. The cost of the ride is $50 per person, which pays for the breakfast en route, lunch at Wild Wings Café and the 2019 Hogs and Rags T-shirt.
Visit www.hogsandrags.org to preregister, and check out the Facebook page at Hogs and Rags of Fayetteville for more information. You can also call 910-988-3510 to speak with someone who can answer any questions.