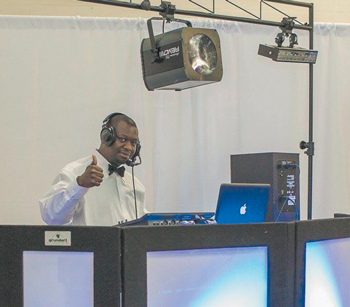 The sound of music is coming to Hope Mills again. The latest music makers in the town will be DJ King James and his fellow disc jockeys.
Lamarco Morrison of the Hope Mills Parks and Recreation Department said he was approached by James, who specializes in top 40, rhythm and blues, and pop music that features family-friendly lyrics.
James' idea was to provide music in the park free of charge to the town. Morrison said James works with a group of five DJs who have done this kind of performance at other venues.
The plan is to hold the first event in Hope Mills on Saturday, July 13, setting up a stage at the basketball courts in Hope Mills Municipal Park. The performance will last from 6-8 p.m.
Morrison said he also plans to coordinate with Chancer McLaughlin of the town administration staff to have food trucks on hand for the event.
Including the free music, Morrison said he hopes to have some kind of charitable donation event taking place at the same time, but a final decision on that had not been made at press time.
"It's mainly going to be about the music and giving the community something to do in the park on a Saturday,'' Morrison said. "I've done those in other cities, and it amazed me we didn't have a music in the park (event).
"I think it will work perfect for us. It was perfect timing for (James) to contact me.
Morrison stressed the music for the performance will feature clean lyrics with no profanity and nothing suggestive. "It will be your top 40,'' he said. "Whatever the radio is playing and whatever the kids are dancing to. It's about (being) family-friendly.''
James has previously performed for Hope Mills events like the health fair.
Photo: DJ King James