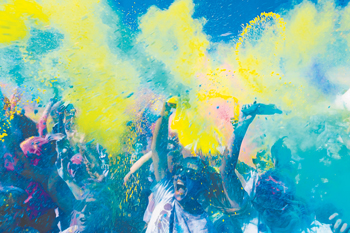 Runners and walkers and people who just love bright colors are in for a treat. FTCC's Department of Health & Fitness Science is hosting the Trojan Fit 5K color run on Saturday, Sept. 21.
Larzaris Butler, the department chair, explained that the money from the race will go toward scholarships. "It's an inaugural run for the health and fitness science department. The money will go toward scholarships for people in the health and fitness science programs," he said. Eventually, the department hopes these scholarships will grow into an endowment. The goal is to raise $5,000 at this year's race.
While Fayetteville Tech has held 5Ks for other organizations, such as Relay for Life, in the past, this is the first race the college has sponsored.
The race is going to be a color run, which means a safe powder that comes in a variety of colors will be thrown as the participants go through the route. It's common for runners to wear clothes that are light colors or white so the colors will show more on the clothes. The colors mostly wash out, although it is suggested by seasoned runners to wash the clothes worn at the race sooner rather than later and to wear clothes that you don't mind being stained, just in case. To keep the colors in your clothes as a memento from the event, it helps to spray the clothes with vinegar after the race, allow them to dry, iron them, wash them in cold water and dry them in a dryer. The process helps to set the stain.
Joseph Davis, an instructor in the health and fitness science department, said that the 5K race is not just open to students — it's open to the whole community. "We really encourage people of all activity levels to come out and have some fun. We'll have a running category, a walking and jogging category and a family one for parents with kids and strollers and wagons. It's a community event," Davis said.
"It's something that brings everyone together," Butler said. "In a typical week, we are working, attending church events and participating in a variety of other activities. We don't have time to sit down and socialize with our neighbors and the people who live and work beside us. Events like this bring us together from all walks of life to do something fun. We want (the 5K) to be something that's fun for the community and beneficial for them health-wise."
The fun doesn't stop when the race is over; the department will have a unique kind of award ceremony as well. "This isn't a traditional race, so our awards are a little nontraditional, too," Davis explained.
"Keeping in the spirit of having fun, we're going to have awards that have jokes to them," said Butler. "Right now we're thinking that the youngest runner will get a golden baby's running shoe. The oldest runner will get a silver running shoe." These are just a couple examples.
Butler is excited for the opportunity for the department to host the race, especially because he knows the hard work that his staff has put into the event. "We started working on this thing a year ago," he said. "They (the staff) have outdone themselves on every aspect on all of it."
The event is one that will celebrate community and wellness while also promoting a great cause. "Fayetteville Tech is a community college and being the health and fitness department, we feel it is part of our goal to promote wellness and physical activity. So we are trying to promote positive change in that way," Davis said.
The race will be held Sept. 21. Runners will begin at 9:30 a.m. Walkers will begin at 9:33 a.m. and families or anyone with a stroller or wagon will begin at 9:36 a.m. Visit https://www.active.com/fayetteville-nc/running/distance-running/trojan-fit-5k-color-run-2019 to learn more information or to register for the event.