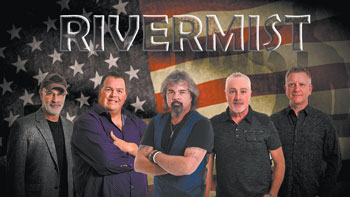 Music and food trucks? Yes, please. Especially after a long week of adulting. Get your planners out now and mark Sept. 20 as a night out — either with friends and family or just by yourself. The Dogwood Festival's Fayetteville After Five is the perfect place to spend a Friday night, being entertained while eating some great-tasting food truck fare. Gates open at 5 p.m., and food trucks will begin serving food at 5:30 p.m. The opening band, Throwback Collaboration Band, begins playing at 6 p.m.

Local favorite, Rivermist, is the headliner for the show. Up & Coming Weekly had the opportunity to chat with Greg Adair, drummer and back-up vocals for the band, and he shared what being a part of the Dogwood Festival Fayetteville After Five event means to the band.
UCW: Is this your first time being the headliner for Fayetteville After Five?
GA: Yes. No local band has ever headlined. According to Dogwood's Curtis Jordan, it was due to our success fronting bands there the last couple of years and a large following of 3,700 people.
UCW: What's your favorite thing about performing in Fayetteville?
GA: The Festival Park Stage is a huge platform. All of our friends, and even families, can see us locally — and on the greatest stage Fayetteville offers.
UCW: What's the schedule of the performance for the evening?
GA: The band playing ahead of us, Throwback Collaboration Band, is an R&B band from Fort Bragg. They played at the Dogwood Festival in the spring. They will start the evening off at 6 p.m. and play until 7:30 p.m. We will take the
stage around 7:45 p.m. and play until around 10:15 p.m.
UCW: What is it about Fayetteville that keeps you and the band here?
GA: All of us, but one, are from the Fayetteville area. Cliff Bender, the guitar player, was from Ohio but has been here more than 20 years. Allen Pier, the singer-keyboard player, and I graduated from Cape Fear High School. Doug Bass, also a singer-keyboard player, graduated from South View. Bassist Tony Harrison graduated from Pine Forest and then University of North Carolina at Pembroke with a music major and owns Cape Fear Music downtown.
Plus, we are all family men. Our wives and families are friends. They go with us on as many trips as possible. We are huge advocates of our military and first responders and tend to sing the National Anthem in many of our shows, acapella. We love to sing harmonies as a hobby.

We are in partnership with Healy Wholesale, 96.5BobFM and with Boose Law Offices. We will have almost 70 shows — mostly festivals and After 5-type events — across three states by the time 2019 ends.
I do the booking and contracts and am a full-time musician. We are booked through three agencies as well. We are always thankful for what we're blessed with and are very receptive to fans everywhere. As far as genre, we play everything from Eagles and Journey to Earth Wind & Fire and Bruno Mars.

Check our updated schedule at "http://www.rivermistband.com/tour-dates" www.rivermistband.com/tour-dates.

Call 910-323-1934 to find out more about Fayetteville After 5.